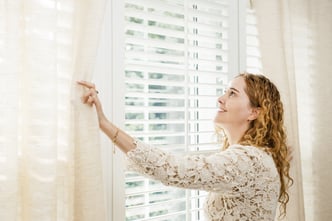 The window treatments you choose can drastically change the look and feel of your room. Making the right decision is challenging, and you want to be sure about your choice before you invest. Your blinds, shutters, or shades not only serve as a valuable accent that can change the tone of an entire room, they also offer you:
Light control
Privacy
Temperature control
Energy savings you can see in your monthly budget
Blinds and shutters remain popular choices for window treatments. Both options offer strong benefits, but each also has drawbacks that you may prefer to avoid. Understanding the particulars of each window treatment can help you select an option that will delight you for years to come!
Blinds – A Simple and Elegant Choice
Blinds are arguably the most popular window treatment available. Their primary benefits include:
Quick installation times
A

variety of styles

to choose from
A softer, less structured aesthetic that makes it easy for them to blend into a room without pulling attention
A good fit for smaller windows
Blinds do not come without drawbacks, however. These treatments are more difficult to clean than shutters. Blinds can also have cords that may pose a safety hazard to children or pets - though cordless options do exist. Their construction dictates more maintenance and a less robust lifespan. You will find yourself changing out your blinds more often, and you may not find that they offer you the light control you hope for.
Shutters – A Timeless Classic
Shutters have a classical look that catches the eye. Their primary benefits include:
Shutters do require a greater initial investment than blinds. They take longer to install, and they will need more space in the window than blinds. Some windows may not support shutters at all.
Shutters vs Blinds – Which Choice is Right For You? All About Blinds & Shutters Can Help!
Still wondering which window treatment is right for your home? All About Blinds & Shutters has years of experience and knowledge about how different window treatments fit different homes. Let us work with you to choose the window treatment that best suits your needs. Contact us today!