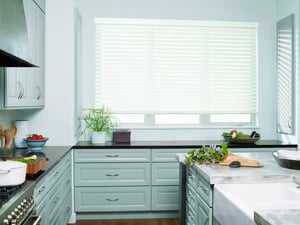 Faux wood blinds are known for their timeless appeal and versatility for the home. These blinds are suitable for all the different rooms in your home. Unlike earlier versions of these blinds, today's faux wood blinds provide more in the way of the look and feel of real wood instead of looking fake and plastic. Other reasons to consider enhancing your home's windows with faux wood blinds include:
Stands Up to Moisture
Humidity and heat and sunlight are major threats to real wood, and there is no shortage of those things here in Florida. Because faux blinds are made from PVC material, they can give you the look of wood blinds without warping, swelling, fading, or cracking. They withstand moisture so well, you can even use them in bathrooms, kitchens, laundry rooms, garages, or other high-moisture areas in your home.
Easy to Maintain
Because faux blinds are made from PVC, they are durable and easy to maintain. Simply dust with a moistened dust cloth or use a mild cleaner as needed. No polishing or sealing is needed.
A Budget-friendly Window Treatment Choice
Faux wood blinds are more budget-friendly than wood blinds. This is a big plus when you are working on a budget. Your interior design budget will go farther when you choose this type of blind over real wood blinds, and you will still be able to expect the same level of attractiveness.
Easy to Install in Your Home
Faux wood blinds are easy for professionals to install. They can be mounted inside the window trim for a clean look.
Available in Several Varieties and Colors
You can choose from a wide variety of colors, ranging from white or light-colored wood tones that will complement bright and cheery decors, to darker colors that add warmth to rooms.
Environmentally Friendly
Faux wood blinds are generally more environmentally friendly than wood blinds. By using an alternative to wood, you are contributing to a reduction in trees cut down. Faux blinds are also recyclable, which helps reduce waste that ends up in landfills. In some cases it is even possible to purchase faux blinds that are made of recycled materials.

All About Blinds & Shutters offers several options for custom faux blinds including blinds with 2-inch or 2.5-inch louver sizes. You can also choose the "No Holes" option, or have motorized functionality installed to your new blinds for home automation purposes. Contact the experts at All About Blinds & Shutters to request a free in-home estimate and learn more about your faux wood blinds options for your home.