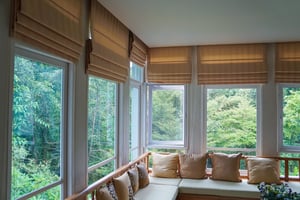 Home improvements can be exciting, but they can become a point of stress the moment you realize you haven't set aside enough funds to complete them. The inevitable questions about finishing the project versus waiting until later, compromising on materials or quality, and doing it yourself instead of paying a professional to do it can sap the enjoyment out of a happy time. Fortunately, this does not need to be the case.
Setting an appropriate budget allows you to understand the potential costs of a project so you can prepare for them. Researching product prices, installation fees, and timelines will ensure you are not caught out by hidden charges during your project. If you're considering an update to your window treatments, let us help you set both your budget and expectations for your exciting home improvement!
The Quality Versus Cost Debate
Window treatments are an investment that can last many, many years when you purchase products that use good quality materials. Creating extra room in the budget for high-quality blinds or shutters does present a heftier initial outlay, but will save you money in the long run.
Inexpensive offerings are tempting and can look like a better deal to many homeowners, but these same homeowners often find themselves buying replacements long before they should. Cheap window coverings are not worth it if you're just going to end up dissatisfied with the end result or replacing them in a year.
If you intend to live with your purchase for years to come, or place importance in durability, control, timeless styles, ease of operation, or modern features, it is recommended you buy for quality. A lower price now will pay dividends in frustration and early replacements.
Due to cost, opting for custom window treatments may mean you replace your blinds room by room, instead of doing your whole home at once. After all, it may be overwhelming to replace 30 windows with $200 window treatments all at once. However, some providers may also offer a discount should you choose to update all of your windows at once. Weighing that cost depends purely on your needs and budget.
The Rundown of Basic Window Treatment Costs
Blinds and shades are a classic, effective way to cover your windows while creating a style you are sure to love. They are durable and easy to clean, while offering light control as well as privacy for all rooms in your home. They are also extremely versatile, offering numerous different options of material (bamboo, aluminum, wood, faux wood) as well as motorization features. Custom blinds and shades can also be fitted to any size or shape of window you have. The most basic of these options can run about $90 per window and go up from there depending on how extravagant you want to get.
Just like shades and blinds, custom shutters must be professionally fitted for best results. Shutters tend to run around $300 on the low end, and can stretch up to $900 on the high end, but will last a very long time if treated well.
Professional installation ensures your window treatments will serve you well for a lifetime. Budgeting a few extra dollars for installation will also save you time and stress when it comes to your new investment.
A Word About Choosing Your Window Covering Provider
The window treatment business tends to attract entrepreneurs who see an appealing business concept, but who do not understand everything that goes into offering quality products and stellar customer service at competitive prices. These companies often fail to build a positive reputation, then find themselves bankrupting their business, only to start another to try again. Many of these operate out of their homes, without a storefront. All too often, they take deposits for orders they do not intend to deliver upon.
These practices can make a victim of consumers who went into their home improvement projects with good faith. When a consumer needs service, they may not be able to locate the original retailer they purchased their window treatments from. It is important to select a reputable company that you can count on.
All About Blinds and Shutters Has a Reputation for Excellence
Contact All About Blinds & Shutters for more information on how our expert service and quality products can transform your home!