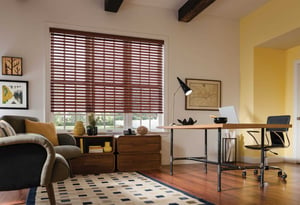 If you've been eyeballing your windows and thinking it might be time to give them a new look, odds are good you have considered blinds - and why wouldn't you? Blinds have both a classic look and an unbeatable functionality that deserve a place on your short list!
If you've been hesitating about getting blinds because of any of the common myths surrounding them, keep reading.
Myth #1 – There Aren't Many Choices for Blinds Available
This could not be further from the truth. There are a tremendous number of choices available when you install blinds! You can choose from different materials, colors, and styles. Homeowners with unusually shaped windows can even have custom blinds created to fit the space they need to cover.
Myth #2 – Blinds Don't Last as Long as Other Window Treatments
Quality blinds can last for a very long time and are as durable as any other window treatment. The durability depends on the material used. For example, wooden or aluminum blinds stay strong and beautiful for many years! Faux wood blinds are both durable and affordable.
Myth #3 – Only Expensive Blinds are Good Quality Blinds
You don't always get what you pay for. Good quality can hide right under your nose, beneath that budget-friendly price tag you thought was too good to be true. Materials such as faux wood can offer durability, beauty, and affordability all at the same time.
Myth #4 – Blinds and Small Children or Pets Don't Mix
It's no secret that certain kinds of blinds, especially those with dangling cords, can present a hazard for curious children or pets. However, that does not rule out all the options blinds can present to you. Cordless and motorized blinds are safe and convenient options for people with an eye towards minimizing home hazards!
Myth #5 – Blinds are Hard to Clean
This myth is playing dirty with the perception of blinds. While certain materials used in blinds can present more of a challenge for regular cleaning, others are a breeze to maintain! If you are concerned about ease of removing dust or debris, select a material that only requires a damp cloth and a few minutes of your time. It really is that simple!
Myth #6 – Blinds Ruin the View Outside
Blinds don't have to detract from your gorgeous outdoor views. The right blinds can enhance the view while still maintaining your privacy and controlling light. Busting this myth is all about working with the right people to find the option that gives you the look you're dreaming of.
All About Blinds & Shutters Has You Covered
All About Blinds & Shutters has the knowledge and experience to help you choose the perfect window treatments for your home. Contact us today for more information on transforming your home's appearance for the better!