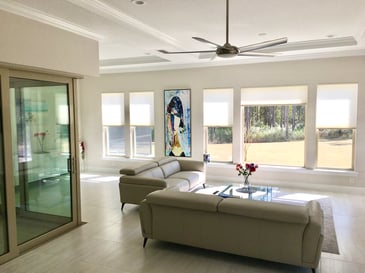 Here are some easy (and stylish) ways to do it!
There are many excellent reasons to preserve natural light in your home. For starters, the sun's rays give rooms and everything in them a more attractive glow. It's good for your health, too! Exposure to natural light helps our bodies produce Vitamin D, regulates our sleep patterns, and boosts energy. It even lifts our mood, especially in the darker winter months when some people are prone to seasonal affective disorder, a type of depression.
But you also want privacy in the comfort of your abode. Large windows are gorgeous, but they also give others a literal "window" into your lives, which can make you feel like you live in a fishbowl.
So how do you reconcile these two needs? Plantation shutters, blinds, and shades are all great options to give you light control and privacy at the same time. Read on for some very stylish ways to ensure your home has the privacy you and your family desire while still allowing the sun to shine in!