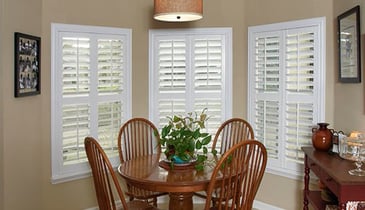 Are you looking for an exceptionally durable, aesthetically pleasing, and practical window covering for your Jacksonville home?
Plantation shutters, made of wide flat or elliptical louvers, are versatile enough to maintain your family's privacy and still allow natural light to brighten your interior. It is no surprise that this window treatment is one of the most popular on the market today.
The main difference between plantation shutters and traditional shutters is the width, as traditional shutters are usually only about 1 ¼ inches wide and plantation shutters are as wide as 5¼ inches. This gives them a modern, fresher appearance that complements any style of abode.
If you've decided that plantation shutters are the right choice for you, your next task is to choose a material; wood, composite wood, MDF, PVC, or polymer. Read on to learn more about the benefits of All About Blinds & Shutters' Lykewood, our premiere polymer shutter, and determine whether they're ideal for your home.