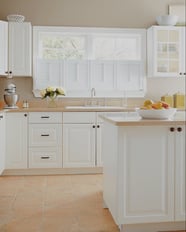 An abundance of natural lighting is something that many people try to achieve in their homes. However, there are times when too much light or even just a little light at the wrong time can be a problem. Controlling and filtering light can easily be done by choosing the right type of window treatments for the different rooms in your home, especially your bedrooms. Best practice is to mix and match window treatments throughout the home, depending on each room's function and need.

Letting the Light Shine In
Natural light is almost always welcomed in larger rooms, like your living room or family room. Because these rooms can be hubs of activity in your home, you may be happy to have as much light as possible. However, you might want to filter the incoming light to prevent UV damage to your furnishings, flooring or carpeting.
Louvered window treatments like wood shutters or wood blinds are ideal for these areas.
Because these treatments are controlled by a louver, you can easily adjust to allow more or less light in your space.
The added benefit is that wood tones can make larger rooms appear cozier with a more natural look.
Your kitchen is another area in your home where natural light is typically welcomed. However, depending on the location of your windows, there may be times during the day where you need to filter some of that light to reduce the sun's glare. Wood blinds or wood shutters may not be ideal for the kitchen because they may require more frequent cleaning. Alternatives can withstand the mess and likely exposure to water.
Faux wood blinds made from PVC or 100% Solid Polymer shutters like our Ultralite or Lykewood would be ideal.
These window treatments look like wood but are easy to clean and are very durable.
They also come in a variety of colors and molding options.
Better Light Control for Better Sleep
Just as natural light is important to good health, so is the right amount of darkness to maintain your body's circadian rhythm. During sleeping hours, your bedroom and your children's bedrooms should not have light seeping in. Therefore, you want to choose window treatments that block out as much light as possible to keep summer evening light, streetlights, and early morning rays from disturbing your family's sleep. A good option for keeping light out are blackout shades or shades that are opaque, for example, blackout Honeycomb shades or Woven Wood shades coupled with blackout shades.
The experts at All About Blinds & Shutters are always ready to help you determine which window treatments are best for each room of your Jacksonville home. Contact us today to schedule your free in-home consultation.