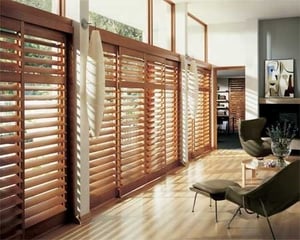 For many of today's homeowners, creating an eco-friendly home environment is at the top of the home improvement list. A home that offers green features, reduced energy costs, and clean air is very important for family health and safety.
If you're looking for eco-friendly home improvement ideas for your home, you may be surprised to find out that your window treatments have a big impact. By installing shutters on your windows, you can reduce your carbon footprint, create a more comfortable room temperature, control natural light, ventilation and privacy, and provide clean air and minimal maintenance throughout your home.
Greenhouse Gases
Natural wood shutters will reduce your carbon footprint and greenhouse gases caused by the burning of fossil fuels in the environment. It's estimated that 30 percent of greenhouse gas emissions are caused by the manufacture and disposal of products used in the home. The wood used in many window shutters come from protected resources where wood is harvested from replanted trees. Natural wood shutters offer an eco-friendly product that's completely recyclable when no longer needed. Recycling old products is an essential part of reducing your carbon footprint and protecting the environment.
Climate Control
Your windows have a big impact on your home's interior climate control. During the winter, heat quickly escapes through your windows, especially without dual-pane glass that provides insulation. During the summer, your air conditioner can work overtime to keep rooms cool. Shutters work in a similar way to double-glazing by blocking out drafts and keeping room temperatures even. With louvered shutters, you can adjust sun control for warmth and cooling, while solid panel shutters offer maximum insulation. Shutters are a great eco-friendly solution that conserves energy and increases your home's comfort year-round.
Light, Ventilation, and Privacy
Shutter louvers provide an easy, convenient way to control natural light, ventilation, and privacy in any room. If you have draperies on your windows, you must open them or tie them back to get daily light and ventilation through the windows. Window shades and blinds must be raised and lowered for light, air, and privacy. When you have shutters on your windows, all you need to do is tilt the louvers to control the amount of natural light, ventilation, and privacy you want in the room. What could be easier than that?
Clean Air and Low-Maintenance
Another eco-friendly advantage of shutters is their minimal maintenance which keeps air cleaner. While other window treatments like draperies require professional cleaning to get rid of dirt, dust, and odors, shutters require minimal maintenance. A quick, weekly dusting is all that's necessary to keep your home free of dust that builds up in most fabric window treatments. In contrast to fabrics that fade and fall apart over time from sun exposure, shutters come with durable, UV-protective paints and stains that make upkeep easy for many years. Whether you need window treatments for French doors, entry sidelights, or custom arched windows, shutters provide a low-maintenance, eco-friendly option for your home.
If you're looking for eco-friendly home improvement ideas, contact All About Blinds & Shutters for information on our wide variety of window treatments. Our professional in-home sales team can set up a free consultation to help you with all of your window needs.