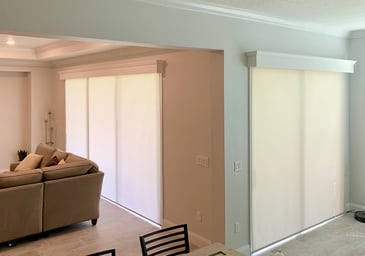 Nothing beats feeling a cool summer breeze, hearing the crickets chirp, and seeing the fireflies dance as the sky dips delicately into darkness. If your home has the much-desired feature of sliding doors, then you are lucky enough to enjoy these sensational moments every day.
Now let's flip to the other side of the coin. A sliding door becomes problematic when it isn't covered properly. It exposes your space and belongings to harmful UV rays, creates an invasion of privacy, and welcomes unwelcomed street lighting.
Lucky for you, All About Blinds & Shutters has the perfect solutions for a coverless sliding door. It's time to take back your summer moments — the breeze, the crickets, the fireflies, and the sky — one sensation at a time.