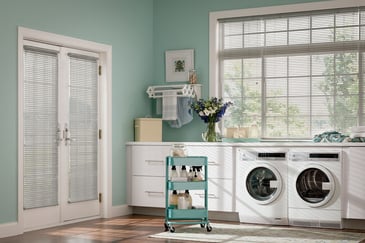 Time flies! We've all heard the expression, but what about others like "time damages," "time weakens," "time disserves," or "time ages"? These lesser-known cousins of "time flies" are the culprits of much havoc, especially when it comes to your home's blinds, shutters, or shades. Homeowners beware! Be on the lookout for these bandits in action and replace your window coverings before it's too late.
Time Damages
Depending on their material, the slats in blinds and shutters are vulnerable to damage over time. Faux wood slats, for instance, will begin to arch with the high heat of many summer months. Wooden slats will eventually contort due to moisture and humidity. Aluminum slats will dent with prolonged use.
This damage will make it difficult for the slats to close completely, resulting in operational difficulties. Opening and closing your blinds or shutters will take effort. If you spot such impairments, it is time to replace your coverings with high-quality blinds, shutters, or shades that will bring new life to your windows.
Time Weakens
In addition to causing damage, time also weakens the color of the slats and the strength of the cords. Most blinds or shutters do not have a sunscreen that can protect them from the sun; however, All About Blinds & Shutters does offer UV protection in extruded products and the paint we use for our products! In your older products, the UV rays will eventually cause the color of your slats to weaken, discoloring them to an unpleasant yellow, which shows dirt and grime more easily. The cords will suffer a similar aesthetic destiny in the way of fraying. Cords are made out of nylon, polyester, or cotton.
Just like your favorite cotton t-shirt will eventually become worn with holes and loose stitching, your window cords will weaken down to a similar fate. With years of friction, cords will begin to fray, resulting in an eventual break of the cord and an immovable blind. If your cords are becoming rough around the edges (literally!), it is time for an update. You might consider a cordless option, such as motorized shades, which will help reduce friction as the only thing you'll be touching is a button.
Time Disserves
Window coverings are supposed to create a sense of privacy, a more comfortable living space, and an energy-efficient home. With the nemesis of time, however, that service turns into a disservice. Because the slats on blinds and shutters warp over time, large gaps will appear on your window, which will decrease privacy and allow heat or cold air to infiltrate your rooms. You don't want to play peek-a-boo with the outdoors nor do you want to sit in a room chilled to the bone or drenched in sweat. The good news is that because our products at All About Blinds & Shutters are made with such care and high quality materials, they will withstand extreme warpage.
You might also be sweating the increase in your energy bill. One of the goals of window coverings is to maintain the temperature in your home, but when coverings become damaged, they aren't as effective. Your heater or air conditioner is then forced to compensate for the inadequate coverings. The result of this is a hard hit to your pocket.
If your window coverings have become a disservice to you, then it is time to swap them out. You might consider installing high-quality shutters as they provide excellent insulation. Your HVAC system will thank you.
Time Ages
As paradoxical as it sounds, time does age, in the form of outdated and antique-looking window coverings. If your window coverings are a decade old, then your rooms will look that way, too. This becomes problematic if you are trying to sell your house. New window coverings increase the resale value of your home as they are fixed features and they also add a pop of pizazz to a space yearning for it.
All About Blinds & Shutters has premium blinds, available in aluminum and faux wood, the aesthetic of which is crisp and refreshing.
We also offer top-notch shutters, spanning from a traditional style to contemporary, rustic, or island. The finish and molding on our plantation shutters add extra sophistication to your windows, which will add a refined ambiance to any room.

Finally, you should consider adorning your windows with our shades. With an array of fabrics, features, and functions (like motorization), you can't go wrong! And with the insulation, privacy, and light control a window shade bring
All About Blinds & Shutters: Tackling Time Bandits
Here at All About Blinds & Shutters, we tackle the effects of time with passion and professionalism. We have streamlined the selection, customization, manufacturing, and installation processes so that when (not if!) your windows are hit by the damage, weakening, disservice, or age of time you can rest easy knowing that we are in your corner (literally, if there is a window there!). Our products will withstand the test of time with UV protection and they are built solid to prevent extreme warpage. Call today for a free estimate or contact us with any questions. Time is on our side!