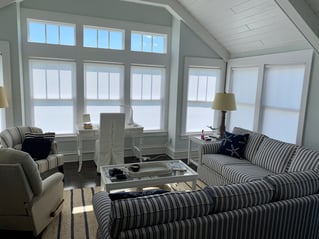 Nowadays, almost anything we can do to make our lives a little bit easier is worthwhile. If you have never considered motorized shades before or thought maybe they were an extravagant indulgence, we have news for you. They are more affordable and, in more homes, than you may think. But besides that, there are multiple benefits to installing motorized shades in your Jacksonville home. Here are seven benefits you could experience by modernizing your window treatments.
Benefit #1 – One Less Thing to Do
It can be a hassle to remember or even get around to opening or closing your shades each day. There could be days that maybe you just don't want to be bothered by this chore. By upgrading to motorized window treatments, you can program them to open and close at preset times each day and have one less thing to do.
Benefit #2 – Motorized Shades Save Energy
You can program your motorized shades to close during the hottest parts of the day to keep the sun and its heat out of your home. This can help cut your home's energy costs by keeping it cooler. During the winter, when you want more sun and heat in your home, you can set your shades to allow the sun to shine in.
Benefit #3 – Safer than Corded Shades
Cords from shades are a safety hazard to both children and pets in your home. It only takes a few moments for a tragedy to happen. Having motorized shades eliminates the need for cords and helps make your home safer.
Benefit #4 – Integrates with Other Smart Home Features
Most motorized shades can be easily integrated with other smart home features you may have in your home. For example, you could create routines that have your shades close when you turn your television on or to close them when you turn your lights on for the evening.
Benefit #5 – Protects Your Furniture and Flooring
The sun's ultraviolet rays can cause damage to the interior of your home. You can protect your furniture, flooring, carpeting, paintings, or photos on the wall from this damage by having your shades automatically close to keep the sun out.
Benefit #6 – Great Solution for Hard-to-Reach Windows
Depending on the design of your home, you could have windows that are out of normal reach. It is impractical to pull out a ladder any time you want to open or close hard-to-reach shades. Motorized shades eliminate this hassle.
Benefit #7 – Wide Range of Styles, Colors, and Features
Today's motorized shades available in a wide range of fabrics, colors, and features. It is easy to find a style that best complements the décor of your home.
Are you ready to experience the benefits of having motorized shades in your home? The expert staff at All About Blinds & Shutters is ready to assist you. Contact us today for your free consultation.