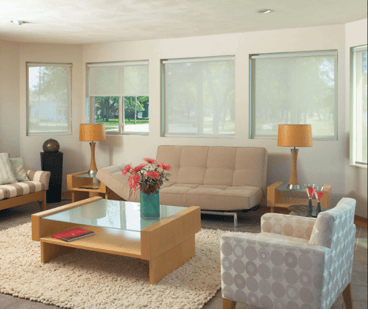 Living in Florida, you know that the one thing not lacking here is sunshine. But all that sunshine can make your home uncomfortable, and could potentially cause damage to your home and furnishings. There is a way to keep your home comfortable and reduce damage from ultraviolet rays: solar screen shades. With warm summer months on the horizon, we wanted to put the spotlight on solar screen shades as our featured product of the month!
Block the Sun Without Compromising Your View
The problem most people have with shades is that getting the optimal performance out of them requires compromising on visibility looking out of windows or natural light coming into your home. Solar screen shades come in a variety of styles, colors, and openness factors. The fabrics used to create these shades are divided into three types:
Light fabrics

Dark fabrics

Reflective high performance fabrics
These types of fabrics offer varying levels of control for managing:
Glare

Heat

Natural light

UV rays

View to outside

Adjusting light coming into home
Why Choose Light-Colored Solar Shades
Shades made of light-colored fabrics do a better job of reflecting heat and allowing more light into your room. They have higher solar reflectance (RS) and higher visible light transmission (VLT). To make the most of a smaller window, you might want to opt for a fabric that blocks between 80 to 90 percent of visible light. In a room like your kitchen or a family room, a light-colored fabric will give you a brighter and lighter environment. The effect of a light-colored fabric shade is similar to having sheer drapes.
When Dark-Colored Solar Shades Are Best
Dark-colored fabrics control glare because they reduce the amount of visible light that seeps through the fabric. They have a higher solar absorptance (AS) and a lower VLT. If your concern is controlling glare, you should opt for a fabric that blocks at least 94 percent of visible light. A dark fabric also absorbs heat and keeps it near your windows until it dissipates away into your room. This is an important factor to consider if heat is an issue.
Optimal Performance with High Performance Solar Screen Shades
The exterior side of the fabric is highly reflective because it is metallized. They provide low VLT, in addition to low shading coefficient (SC) values. This is regardless of whether you choose a light or dark color for the interior side. Light or dark colored shades without an exterior reflective side can only do a fraction of the job that a high performance fabric shade can do.
The Science Behind Solar Screen Shades
Solar screen shades are able to control the amount of light and heat that enters your room. The fabric color and its density determine the performance of the shade based on three properties of each individual fabric:
Solar performance

Optical performance

Thermal performance
By taking these factors into consideration, it is possible to obtain the ideal match to meet your specific requirements for application and aesthetics.
Let the experts at All About Blinds & Shutters in Jacksonville assist you with which type of solar screen shades would be best for your room!