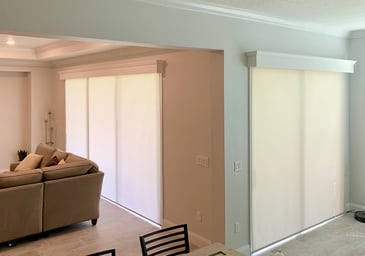 Nothing beats feeling a cool summer breeze, hearing the crickets chirp, and seeing the fireflies dance as the sky dips delicately into darkness. If your home has the much-desired feature of sliding doors, then you are lucky enough to enjoy these sensational moments every day.
Now let's flip to the other side of the coin. A sliding door becomes problematic when it isn't covered properly. It exposes your space and belongings to harmful UV rays, creates an invasion of privacy, and welcomes unwelcomed street lighting.
Lucky for you, All About Blinds & Shutters has the perfect solutions for a coverless sliding door. It's time to take back your summer moments — the breeze, the crickets, the fireflies, and the sky — one sensation at a time.
Covering Solution #1: Blinds
Considered a standard choice for sliding doors, blinds are a good fit (literally!) for your sliding door. The most common selection for sliding doors is vertical blinds. In opening side-to-side, vertical blinds match the directionality of sliding doors, making them easy to use. They also come with additional perks:
They are relatively inexpensive.
They are easy to clean and maintain.
They are durable yet lightweight.
They are safe for kids and pets (cordless and motorized functionalities).
They are perfect for striking a balance between privacy and light.
At All About Blinds & Shutters, our blinds provide the above advantages while also providing aesthetic charm. We offer a variety of materials available in a variety of colors and patterns. Your vertical blinds can be crafted using PVC, a synthetic material that won't discolor or split because it can withstand heat and moisture.
For a more decorative look, your vertical blinds can also be made using durable fabric, which is available in polyester, fiberglass, and even silk. Regardless of the material used, our vertical blinds will match your home decor, including any cornices or draperies you may have.
Just take a look at our vertical blinds gallery for a better idea of how vertical blinds might be just the solution you need to cover your sliding door!
Covering Solution #2: Shutters
Shutters are another great option for sliding doors, more specifically, plantation shutters. Sliding doors require a cover that will allow for heavy foot traffic but also one that maintains desired levels of privacy and sunlight. Plantation shutters are a perfect solution for that challenging mix of requirements.
Plantation shutters are distinguishable by their wide, angled louvers, resembling the slats on blinds. Unlike blinds, though, plantation shutters are specialty-fitted to your window frame and have a bi-fold functionality, making entry and exit through a sliding door a breeze. Additionally, plantation shutters come with a divider rail and separate control for top and bottom louvers, which allows you to easily control your level of privacy. This mechanism also controls the light flow, which is important for insulation and energy efficiency.
The plantation shutters at All About Blinds & Shutters are available in real wood or solid polymer material and can be customized with various color and finishing options, making valances and draperies almost obsolete.
Peruse our plantation shutter gallery so you can better conceptualize how plantation shutters can superiorly solve your sliding-door cover dilemma!
Covering Solution #3: Shades
If you are ready to think outside the blind and shutter box, then you might be a fan of shades, particularly the popular honeycomb shade. Also known as a cellular shade, this shade uses its distinct honeycombed-shaped cells to create a cover that combines the durability of blinds with the insulation power of shutters. They also have a variety of light control options, from light filtering to blackout, which enables homeowners to control privacy levels. Sliding doors can appear in many types of spaces, from kitchens to living rooms to bedrooms. So, homeowners should have a window cover with different opacity options to match different privacy needs.
Homeowners also have different design tastes; luckily, honeycomb shades now come in an array of fabrics and shapes that will satisfy even the most unique decor taste buds. One aesthetic function of all honeycomb shades that are universally loved is their disappearing act. You heard right! Honeycomb shades are celebrated for practically disappearing from view when raised, leaving a grand, open view of the world outside.
Honeycomb shades, a splendid solution to your cover quandary, might be just the ticket. Browse our honeycomb shade gallery so you can better visualize just why that might be!
All About Blinds & Shutters: Just the Ticket
At All About Blinds & Shutters, we have the tickets to all the window covering attractions, including the challenging but loveable sliding door. Whether it's blinds, shutters, or shades, you can't go wrong!
Come to our showroom, open six days a week, and see for yourself why so many people are so happy with their new window coverings. We also offer free estimates, so don't let your summer moments pass you by any longer. Contact us today!