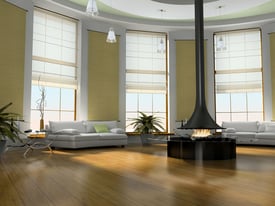 Another Jacksonville summer is fast approaching and with it comes rising temperatures and utility bills. Cooling a house during a hot Jacksonville summer is no easy task. That's why many Jacksonville homeowners seek to improve their home's efficiency and reduce their cooling costs as much as possible.
One of the most effective ways to cool a home is by the amount of sunlight that enters the house on a daily basis. High quality shades for a home's windows can help keep light out and keep the home cool. Shades have the added benefit of protecting floors, furniture, and other style elements from damaging UV rays.
Of course, a homeowner doesn't want to block out all natural light. Sunlight is an important part of maintaining a happy and healthy home. A house that has little or no natural light would seem dark, and possibly even depressing.
The challenge is to find shades that let in the desired amount of natural light, while also keeping the home cool and protecting valuable furnishings. An experienced shade dealer could help a homeowner find the perfect shades. With a good base of information, a homeowner should be in great position to find the perfect shades to keep their home cool during a Jacksonville summer.
Shade Buying Tips
Some people are overwhelmed by all of the styles and types of shades available. Shopping for shades doesn't have to be difficult. However, there are a few guidelines that are helpful to consider:
Consider opacity levels - Homeowners often make the mistake of thinking that shades must be very heavy or dark to keep out sunlight. That's simply not the case. Even a thin amount of material can be effective at filtering sunlight.

Make sure it matches your overall color scheme - It's important to make sure your shades fit in with the rest of your home. This is especially true in kitchens where the shades may need to match more permanent fixtures like appliances and countertops. Bring swatches or pictures of your style elements with you when you're shade shopping so you can make sure everything matches up as it needs to.

Try different textures - Natural fibers like bamboo and ratton can offer a unique charm to your homes style. If the color palette is relatively plain, using a unique texture can add an extra dash of charm and uniqueness.
Types Of Shades
Shades come in a wide variety of styles to meet any need. With some advanced thought, a homeowner can narrow down the shade selection almost immediately and focus on the shades that best meet their needs. There are many different types to choose from. Here are five of the most popular:
Roman shades are fabric shades that fold as they're raised and unfold as their lowered. Roman shades are popular because they're easy to operate and maintain. They also come in a wide variety of textures, colors, and styles. One common design type is classic flat Roman shades, in which the folds are not visible when the shade is lowered. Another popular type is teardrop, in which the folds are visible when the shade is lowered. Roman shades also have enough different textures to meet almost any need.

Screen shades provide a nice way of shielding the home from direct sunlight while also still allowing a certain amount of natural light in. Screens come in different opacity levels. Shear is nearly see-through while opaque blocks out almost all light. There are several different opacity levels in between those two. Screen shades can come as Roman shades or as flat shades, which are rolled when the shade is raised. There are also mechanical versions of screen shades which lower and raise automatically with just the flip of a switch.

Honeycomb shades have a unique insulating design that not only keeps the house cool in the summer, but also warm in the winter. Like screen shades, honeycomb shades come in different opacity levels. They can be nearly see-through as well as completely opaque. Honeycomb shades also come in a variety of raising and lowering methods. They can be mechanical, they can have a continuous cord loop, or they can be top-down bottom-up.

Woven wood shades are all uniquely designed based on the type of wood used, the tightness of the weave and the raising and lowering operation. Selected woods, reed, bamboo and certain types of grasses are often used in woven wood shades. An open weave will let some light into the home and also allow for views out the window. A tight weave will block out more. Woven wood shades can come with motorized operation, a drawstring, or a top-down bottom-up configuration.

Retractable screens offer a unique way for homeowners to continue to enjoy their doors and windows, while also protecting their home from insects and damaging rays. The screens can be retracted into a cassette in the home. That means the screens are visible when they're not in use. Retractable screens can come in a variety of opacities based on just how much light the homeowner would like to keep out.
The Jacksonville summer can be extremely hot and can be damaging on floors, furniture, and other accessories. Shades are a highly effective way to protect the interior of a home, especially the elements that are close to windows and doors. You can choose shades that are perfect for your home by thinking about exactly how much light you would like to keep in, how much of your view you would like to retain, and how the shades will fit into the overall style of the home. Contact us today to learn more about how we can help you find the ideal shades for your house this Jacksonville summer.