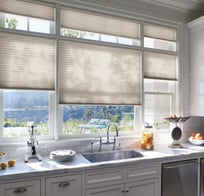 Replacing or upgrading to a new type of window treatment is an easy way to transform the appearance of a room. Make any room feel new again with a fresh design that requires minimal maintenance and will look great for years. Still on the fence about replacing your old blinds and shutters? Read on to learn the top five reasons you should upgrade today!
#1. Serious Savings
Budget-priced curtains and blinds do not typically stand the test of time. They can start to show signs of wear and tear within only 2-3 years (or less) of being installed. This can include fading, fraying, stains, and warped or broken slats. This, of course, makes the appearance of your home suffer, but can also be costly since you have to frequently replace them. Investing in quality window treatments will ultimately end in savings as the frequency of replacement will significantly drop.
#2. You Are Planning a Home Remodel
If you are remodeling or moving into a new home, don't forget to update your window treatments. Most blinds and shutters are available in a variety of styles that will elevate any room design. From contemporary, traditional, rustic, or tropical, you will have plenty of options to complete your home's design.
#3. You Want to Improve Your Home's Energy Efficiency
Is it challenging to keep your Jacksonville home cool during the summer? Upgrading to the right window treatment can result in better temperature management and energy efficiency. Many window treatments are specifically designed to block heat and keep cool air in your home: For example, cellular shades, solar screen shades, and shutters are great energy-efficient options.
#4. Easier Maintenance
Older blinds and shutters can be a pain to keep clean. Not only do they stain more easily, but older designs can exhibit signs of weathering due to the use of outdated materials. Upgrading your window treatments will not only create a fresh look, but they also make cleaning easier and long-lasting.
When you purchase your window treatments through All About Blinds & Shutters, you will receive expert advice on how to care and maintain your new window treatments. If any maintenance concerns do pop up, the All About Blinds & Shutters customer service team will be happy to answer your questions.
#5. Your Windows are Uniquely Shaped
Finding blinds or shades to fit uniquely shaped windows can be difficult. Most DIY or pre-measured window treatments can leave unsightly gaps as they are not tailor-made to fit your specific window; however, custom blinds and shutters can be cut to perfectly fit any sized window. This can include triangular, arched, or circular shapes.

From savings to upkeep, upgrading your blinds and shutters can have significant benefits. Contact the window treatment experts at All About Blinds & Shutters today to schedule your free in-home consultation.