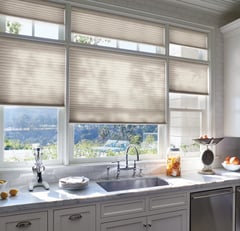 Putting your home up for sale can be hectic. You will be busy preparing for the move to your new home while trying to keep your home looking its best for potential buyers. Window treatments can be an afterthought in the home selling process; however when you finally do get to them, you may get stuck wondering what to do. So here are a few things to consider about your window treatments when you're moving.
Should Your Window Treatments Stay or Go?
When you are moving, there is often an assumption that anything that is attached to the home stays. This includes window treatments. Usually your realtor will ask what items are going to stay in the home.
If your home has custom-made blinds, shades or curtains, they will be of little value to you if they do not fit the windows or doors in your new home. Determining whether or not they fit your new home will help you decide whether they should stay or go.
If your window treatments do fit in your new home and you decide to take them with you, make sure you take all the accessories and hardware that goes with them and repair any holes remaining in the walls.
If you leave your window treatments behind, just be aware that if you have custom window treatments, they can help boost your home's curb appeal as well as possibly help you fetch a slightly higher price for your home.
An Investment that Can Help Sell Your Home
Curb appeal is an important factor to consider when you are getting ready to sell your home. Mismatched, broken or dingy blinds, shades, or curtains do not leave potential homebuyers with a positive impression, nor do bare windows.
The right blend of window treatments in your home can help make a good first impression on potential homebuyers. Existing window treatments are an essential part of your home's staging to make it appear more move-in ready and improve its visual appeal.
Home staging, while not necessary, can be an important part of selling your home. 81 percent of homebuyers interviewed by the National Association of Realtors (NAR) say that home staging helps give them a feel for the rooms and help them visualize how they could utilize the spaces. It also could help increase the dollar value of your home by up to 20 percent. Consider the following window treatments to help stage your home and command a higher selling price:
Blackout blinds: The master bedroom will look like the perfect place to get a good night's sleep if you invest in window treatments that completely block out light.
Light colored blinds or shades: Neutral light-colored blinds or shades can help rooms feel larger. Opt for sheer white, eggshell, beige, or tan blinds or shades.
Modern blinds or shades: Modernizing your window treatments can keep your home from feeling outdated. Some great sleek, modern options include - faux wood blinds, roman shades, or roller shades. For an ultra-modern touch, try motorized shades.
Whether you are moving in the near future or just want to take your window treatments in your home to the next level, now is a great time to contact All About Blinds & Shutters. Our experts can help you decide what window treatments will bring out the best in your Jacksonville home.