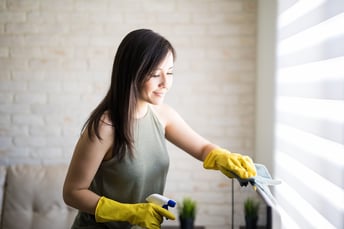 Clean windows can lift spirits and brighten dark moods by allowing an abundance of natural light into a room. Looking out to watch the world pass by, or to appreciate the natural beauty of the land around our homes, is so much nicer when we do it through spotless glass instead of smudges or dust. Washing the windows is a task well worth undertaking.
Yet many people forget the window coverings they gaze past as they look out the windows. These vital home accessories require cleaning as much as the windows themselves do. They can collect dust and other allergens, and can develop a grungy look if left uncleaned. While the thought of cleaning blinds might seem tedious or intimidating, it doesn't have to be. Use these tips to keep your blinds beautiful!
General Tips for Clean Blinds
For most window covering cleaning situations, a basic dusting with a microfiber cloth will do. However, if you don't have a microfiber cloth on hand, a clean sock will do fine. Use an acrylic or polyester sock, as opposed to a woolen one.
Start at the top of your windows and work down. You would be surprised how much hair and dust will fall on the blinds below! Beginning your cleaning at the top allows you to clean what falls as you work your way down, and minimizes the need to go over areas twice.
Aluminum or vinyl blinds that reside in a kitchen may have a greasy residue from their exposure to the cooking area. These may require more than simple dusting. Remove the blinds from the window to place in a bathtub with dish soap and warm water. Leave them to soak for about an hour, then rinse and wipe away excess detritus. Allow the blinds to dry completely before reinstalling.
Fabric blinds that require more than a basic wipe-down can be sent to a dry cleaner for treatment. Inquire at your favorite cleaners about their services.
How to Clean Your Blinds
Have a vacuum cleaner with a soft brush attachment on hand, as well as microfiber cloth and perhaps a microfiber duster. Warm water and dish soap are also needed.
For vinyl, wooden, or aluminum blinds:
Lower your blinds fully. If you have blinds with overlapping slats, tilt them downwards but do not close them completely.

Hold the bottom of the blinds in one hand while you wipe them down with the microfiber cloth. Don't forget to start at the top! If you prefer, you can use the vacuum with the soft brush attachment to suck the dirt away.

Flip the blinds and repeat the process on the other side.

If your blinds are heavily soiled, use the cloth and warm water to wipe them down. Do not allow wooden blinds to become too wet.

Allow your blinds to air dry. Use your vacuum to clear away any dust that has fallen onto the floor or window sill.
For fabric blinds:
Lower the shades completely.

Vacuum the shades with the soft brush attachment, starting at the top. Do both the front and the back on low suction.

Dish soap and warm water will take care of any stains in need of spot cleaning. Dab the stains with a damp, soapy cloth multiple times, depending on how easily the stain comes away. Repeat with a cloth dampened with clean water. Let the shade air dry.
An important note: Not all window treatments are soap and water tolerant. With that in mind, it is important to first determine the proper cleaning method for the product by referring to the cleaning and care instructions, or by contacting the manufacturer prior to performing any type of cleaning.
Have your old blinds worn past cleaning? Contact All About Blinds & Shutters for more information about the best replacements for your needs!