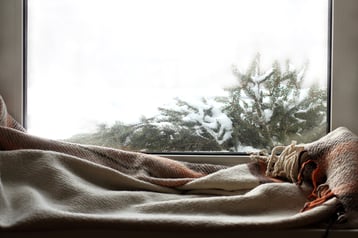 Whether your personal style is coastal, minimalist, vintage, or industrial, you want your home to be a cozy and comfortable refuge where you can relax. Many people consider their furniture, floor choices, accessories, and art work to be the only ways to create ambience, but window treatments can have a huge effect on a room's aesthetic as well. At All About Blinds and Shutters, we have 42 years of experience in helping our customers choose window treatments that create their desired effect. If you want a cozy aesthetic, consider these design factors:
Light:
When you go to a restaurant, the lighting creates the ambiance, and it can do the same thing in your home. Jacksonville has 221 days of sun each year; take advantage of that natural light to create a comfortable environment inside!
White shutters can reflect white light and add brightness.
Yellow shutters can make a room feel sunnier.
Darker colored shutters will reflect less light, so you can experiment with lamps to create your cozy atmosphere. Having light coming from several sources can create mood and contrast.
Another way to create a comforting contrast is to paint your walls in a dark, rich color and your window frames in a light color. Shades or blinds that welcome in the light will bring focus to the windows and give a dramatic brightness to the whole space.

Roman shades

are made from fabric or woven wood and are loved by interior designers because of the variety of fabrics that can be used to manipulate the amount of desired light.
Texture:
Texture can go a long way in creating charm. Designers often like to mix and match fabrics in a room to create a homey and comfortable feel. This doesn't have to be confined to sofas and cushions - window treatments can also enrich the mix and match motif.
Shades are an obvious choice when you are considering fabrics, but shutters and blinds also offer varied textures.
Real wood blinds are lighter and come in a wide variety of stains and textures. This can help you pull a room together by matching the wooden blinds with your wooden picture frames or family heirlooms and antiques.
Wood is reminiscent of nature; it also has an inherent richness about it that adds warmth to a room. Wood blinds or shutters can instantly warm a room and banish any feel of a cold or sterile atmosphere. We offer both

faux and real wood blinds

!

Wooden shutters

also have the flexibility of being able to be painted or stained to bring a room together with a sense of richness and depth.
Layers:
Layers offer a chance to provide texture. Designers love to pair soft pillows, fuzzy rugs, or throw blankets with streamlined furniture to add warmth. Window treatments can follow the same ground rules.
Choose curtains patterned in stripes, florals, or plaid and pair them with natural roll-up, woven wood, or honeycomb shades, for example.
The shades should be in a neutral color that allows the drapery to shine while adding depth to the overall wall.
Size:
It's possible to expand a window treatment to make a small window seem larger.
To warm the wall visually, you could expand your drapes or blinds to cover an entire wall.
This type of window treatment has the added advantage of keeping heat out in the summer and drawing the focus inside for the winter.
Close those blinds and enjoy relaxing with your family or significant other! A pendant light hanging in front of the window treatment can increase the cosiness factor.
Color:
Not everyone's idea of comfort and coziness is the same, so your ideal manipulation of color may differ from that of someone else.
You could use deep, rich colors (such as burgundy or dark hunter green) to paint a small wall or nook with a window in it. This will add character to the space, especially if the window covering echoes that richness, either through the use of wood, fabric, or light.
Using a palette of earth tones to create an informal feel within your home is another way to add warmth to a space.
Surprisingly, warm metals can create ambiance, so custom aluminum blinds can be a great fit, especially if you are working to create a one-color palette story. You can add warmth to a space by choosing varying shades of one color. As long as the tone stays consistent, you will establish a smooth flow throughout the room.
Free In-Home Estimates
All About Blinds and Shutters always offers FREE in-home estimates with no obligations. Our design consultants are experts in their field-- each has hands-on experience in all aspects of the business, including designing, building, and installing all of the products that we represent. If you want to create a home with a cosy aesthetic, ask our experienced design consultants for advice. Each one has an average of over 20 years of experience.
Contact us for an estimate today.