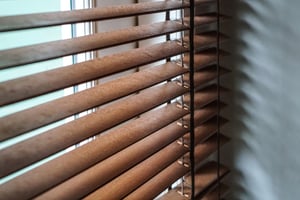 The timeless look of wood blinds continues to be popular with savvy decorators year after year. These classic window coverings make a bold statement and can totally transform your home's look.
While real wood and faux wood blinds are both stylish and functional, they also offer their own unique sets of benefits. Read on to learn more about the pros and cons of each so you can decide which option is right for your home!
Faux Wood Blinds – The Best of Both Worlds
When you want the beauty of horizontal wood blinds but want to go easy on your budget, faux wood blinds may be the choice for you! These window coverings have the appearance of a variety of woods and finishes, enabling you to choose one that will complement your room's décor. They also cost around 25 to 30 percent less than their wood counterparts.
Because they are made of durable synthetic materials, faux wood blinds are easy to clean and maintain, so they are ideal for areas with splash zones, like the kitchen. You also don't need to worry about high moisture levels, like the bathroom, as these blinds will not swell or warp with humidity. They also provide excellent insulation from the temperatures outside.
Faux wood blinds are heavier and require more support than real wood blinds. This translates to more visible ladder strings on the blinds. If you prefer a cleaner, less string-laden look, you may prefer true wood blinds.
Real Wood Blinds – A Classic with Few Strings Attached
A classic with undeniable vibrancy and charm, wood blinds never go out of style. The warmth they lend to any room is unmatched. Often, these blinds come with upgraded features and convenient options to enhance their use.
Wood blinds are the best choice for people who hope to match the wood stain on furniture, picture frames, or antiques, as real wood blinds come in a wide variety of stains and textures. You can choose the right finish to complement the rest of your home. They are also ideal for wider windows, as they are lighter than their faux wood counterparts.
Real wood blinds require fewer ladder strings to support them. This gives them a clean, sleek appearance. You can ask for wood blinds with the no-holes option for superior light-blocking capabilities. Some wood blinds can even be powered with motorization to ensure the safety of children and pets.
Ask All About Blinds & Shutters
As you can see, the main factors to consider when choosing between faux and real wood blinds are window width and which room you are planning to use them in.
Not sure whether real or faux wood will best suit your home? All About Blinds & Shutters offers free in-home consultations! Contact us today to discuss your options and find the window treatments that will be best for your home.