There is a wide variety of window treatments that a homeowner can choose from when revamping their home interior décor. These range from extravagant window treatments such as flowing draperies that puddle your floor in a manner reminiscent of the Niagara Falls to, well, the minimalist extreme of nothing at all. Today's trend is leaning more towards simple, yet sophisticated, window treatments.
Shades and blinds help you to dress your windows without cluttering the way or obstructing your view of the outside world. They give you better control of the light that comes to your rooms through your windows. Shades and blinds give you options for future improvements; if you prefer to add valances or swags later on, you are free to do so. But this is mostly unnecessary since shades and blinds are complete by themselves and look great with no accompaniments.
Blinds are classified as 'hard' window treatments. They come with slats or vanes that are designed to angle or tilt to regulate the intensity of light that enters the room. Shades, on the other hand, are considered as 'soft' window treatments and control the amount of light getting into the room by raising or lowering them. Shades are great in that they do not obstruct your outside view and can be opened from top down, bottom up or a combination of both methods.
Shades consist of a range of window coverings such as insulating cellular shades that are made of a fabric folded into a huge number of distinctive cells that look like honeycombs. Other options include fabric Roman shades that have flat horizontal folds with a pull-cord mechanism and hybrid window covers that consist of movable fabric vanes that are suspended between two fabric facings. Honeycomb shades and Roman shades are highly popular and are loved by many interior designers, mainly owing to their unique and superior qualities. When buying window treatments, it can be difficult choosing between the two types of shades. To help you make a more informed decision, let's have a closer look at what they are made of:
Honeycomb Shades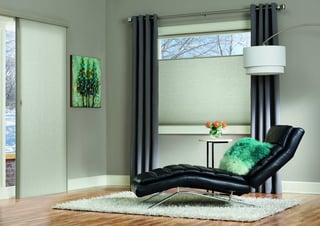 If you prefer the sophisticated look for your window treatments, then honeycomb shades will sweep you off your feet. Honeycomb shades are extremely versatile products. They are designed with insulating cellular shades that allow you to stay warm during winter and cool in summertime. These stellar shades are loved for their tight gathers when they are raised; a feature which allows you to have an uninterrupted view of the outside scenery. Honeycomb shades also come in specialty shapes for different applications. Their opacity levels vary from light filtering to blackout.
You can choose from three basic design configurations for this type of shade; Single Cells, Double Cells and Triple Cells. You can also choose from a variety of pulling options such as the standard pull cord, the super-safe cordless system, a motorized hands-free option, 'Top Down Bottom Up' option or the continuous cord loop which is ideal for lifting heavier shades.
Roman Shades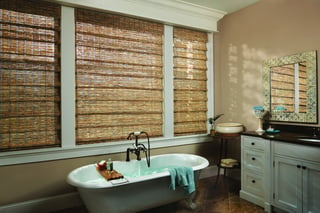 If you are looking for classy simplicity, Roman Shades are perfectly cut out for this. They consist of fabric shades designed to neatly fold to the top every time the shade is drawn open. They are available in two basic designs: the Classic Flat design with no folds in the lowered position and the Teardrop Design that secures the fold into place when the Roman shade is lowered. There are different fold sizes ranging from 3 feet to 9 feet sizes. Other exciting options include the 'Top Down Bottom Up' feature that allows you to gain independent control of your shade's top and bottom, the Continuous Cord Loop that's perfect for lifting those heavy shades, cornices and fabric valances.
All About Blinds and Shutters is the leading Jacksonville blinds and shades manufacturer. If you live in the Ponte Vedra, Fernandina Beach area, stop by our showroom and get a firsthand look at our window shadings and window treatments. Alternatively, just visit our website at www.allaboutblinds.net and view our exquisite products or get a free in-home estimate of your blinds and shades project from one of our consultants.