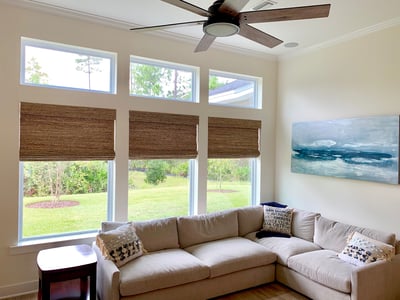 Wood tones bring warmth and natural style to any room. When you want to surround yourself with cozy, rustic comfort that welcomes you every time you return home, wood accents are the best place to begin. One of the easiest and most stylish ways to incorporate natural shades in your home is with woven wood shades. These timeless window treatments bring both warm wood tones and unique texture to any room of your home. They are beautiful, versatile, and they might just be right for you!
What Are Woven Wood Shades?
Woven wood shades are window treatments made of a variety of materials such as rattan, bamboo, jute, reeds, various woods, or natural grasses. They are bound together and assembled to provide light control, privacy, and beauty. You can purchase them with a variety of cord styles to suit your family's needs. These shades even come in cordless styles!
Because these shades are constructed of all-natural materials, no two shades are exactly alike. This means you have a unique accent for your home no matter which shade you choose.
Do Woven Wood Shades Offer Light Control and Privacy?
Absolutely! In fact, woven wood shades allow you tremendous variety and control over how much light enters your home, and how well you can see through them to the outside. They are fantastic for layering so you can achieve your ideal style for light control and privacy.
Shades constructed of thinner grasses provide light diffusion and basic privacy, and allow you some view of the outdoors. Choosing a thicker bamboo shade will provide less light and greater privacy. Always examine samples of the different shades available to find the one that best suits your needs.
All woven wood shades can be paired with liners to customize how much light is allowed through. You can select everything from a thin white liner for better light diffusion to a full light-blocking liner to give you complete control.
Is It Easy to Clean Woven Wood Shades?
As easy as pulling the vacuum out of the closet! Whenever you vacuum your floors, take a moment to use the brush attachment to remove dust and other debris from your woven wood shades. If you spot a persistent stain, you can dab it with a damp cloth. It's best not to get them fully wet, however.
All About Blinds & Shutters Has the Woven Wood Shades for You!
Whether you're hoping to bring a pop of texture to your room with a set of woven wood shades, or you're in the market for a classic set of plantation shutters, All About Blinds & Shutters can help you find the perfect style for your home. Contact us for an estimate today!