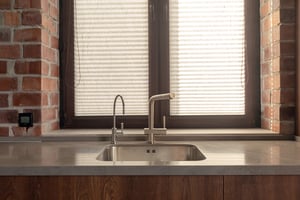 For many, the holidays mean a celebration we will never forget and a house full of loved ones making happy memories. Others use the holidays to treat themselves after a year well-lived. Whatever the source of your joy this holiday season, a refreshed kitchen is a terrific way to celebrate - and delight holiday guests if you have them.
New window treatments can completely transform your kitchen without an expensive or inconvenient remodel. They can also complement any other remodeling work you have had done already to polish the aesthetic you hoped to achieve.
Location Matters When Picking Window Treatments
The kitchen is one of the most important rooms in your home, but it is also one of the messiest. Steam from that perfect pot of pasta or oil splatter from your favorite homemade fries can take a toll on nearby decor items. This includes any window treatments that live in the splash zone for your sink, your stove, or other common work areas.
If your window treatments will hang in this area, you should select their materials with care. Choose designs - like PVC-based treatments - that will not warp with constant exposure to heat and moisture. Also consider that you will need to clean them often, and pick window treatments you can quickly wipe down on cleaning day.
Five Options for Stunning Kitchen Windows
Whether your windows sit in the splash zone for cooking messes or not, you have an array of designs and materials to choose from that can add warmth and texture or complement kitchens that feature more color.
All About Blinds & Shutters Has Your Holiday Style
Refresh your home this holiday season so you can start the new year right - with a fresh kitchen and a fresh perspective. Contact All About Blinds & Shutters to find out how we can exceed your expectations!