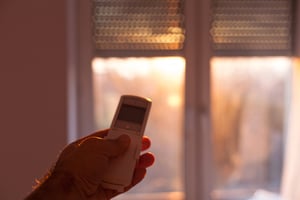 Every home has windows (unless you live in a cave). When it comes to choosing window coverings for them, most homeowners take into account the following: privacy, aesthetic, and light control. Not only do motorized window treatments provide those things, they have the added bonus of being remotely operable and automated with smart home technology.
Read on to learn more about the numerous benefits of motorized shades:
Ease of use: With motorized shades, you can open shades, close them, or anything in between - all from the comfort of your recliner. You can use your remote control to adjust your window treatments with ease. Not only are they convenient, but they are especially helpful when installed in hard-to-reach windows.
Energy efficiency: When the nonstop Florida sun shines in, your house can heat up, becoming almost unbearable. Conversely, when winter sets in your home can quickly become quite chilly. With motorized window coverings, you can quickly and easily adjust your coverings to meet your needs according to time of year. This helps your HVAC system work optimally rather than having to work harder, thus increasing the energy efficiency of your home.
Privacy and safety: Sure, all shutters and blinds offer privacy, but imagine the convenience of being able to close the blinds when you are in a different room, or being able to program them to close automatically when you leave home. Additionally, motorized blinds do not have cords, providing an additional layer of safety for those with children or pets.
Visual appearance: As with traditional shutters and blinds, motorized window coverings come in a range of designs, colors, and materials. That means they can match and complement any decor, ranging from traditional to modern to country chic.
Programming made simple: Is the late afternoon sun too hot? Do you like to watch the sun come up as you're sipping your morning cup of coffee? Do you prefer to raise only south-facing shades in the afternoon for your plants? You can do this and more with motorized window coverings. You can connect them to a smart home system or hubs like Google Home or Amazon Echo and program your motorized window shades to operate on a schedule.
If you are looking to invest in new window treatments, consider motorized window coverings. You receive all of the advantages of traditional shades, but with the technological advantages of motorization and automation. Contact All About Blinds & Shutters to learn more today!