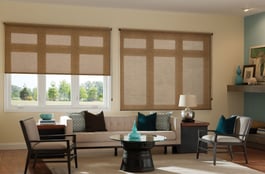 Roller shades and solar shades are both window coverings that are commonly used in residential and commercial settings. Among users, the terms are often used interchangeably. The fact is that they are very different things, and in many cases, they serve fairly different purposes.
Keep reading to learn more about the differences between roller and solar shades so you can make an informed decision for your home or business.
Roller Shades
Roller shades are designed to be cost-effective, easy-to-install window treatments that will work well in traditional, transitional and more modern spaces. Typically made with simplicity in mind, a variety of materials can be used for roller shades. However, the most typical kind of material used is vinyl. Fabric roller shades are an option, and many people prefer their look, but they do tend to cost more.
High-end fabric roller shades with specialty materials are being used more and more in contemporary homes and businesses where budgets are higher than average.
Solar Shades
Like roller shades, solar shades are designed to be relatively simple to install. They're traditionally made from vinyl or fabric material, giving customers the option to pick the style that best suits their space.
Patterned solar shades and brightly-colored solar shades are becoming more popular with design-minded home and business owners.
Light Protection
So far, roller shades and solar shades likely sound very similar. The biggest difference between the two is the amount of light filtering that they provide. While roller shades can have a backing designed to block out light from windows, solar shades offer much more variable control over how much light you let in when the shades are down.
Commonly referred to as screen openness, customers get to choose the amount of UV light blocking they want before installation. Typical options for screen openness include 1%, 3%, 5%, 10% and 14%. For customers who prefer to leave their shades down and block more light, solar shades are typically a better choice. They also provide more light protection if you're going to be working near a window or sitting in an area that gets a lot of natural light in your home.
Many people also use solar shades in their bedrooms to block out light in the early morning hours.
Control Options
Roller shades are typically controlled via a pull chain or string that is installed along with the shades. This is the most cost-effective solution and operation is easy for anyone. Solar shades can be installed the same way, but other options are available as well.
One of the more popular modern options for both roller and solar shade control is a handheld remote or switch on the wall, much like a regular light switch. These can control your shades in intervals or make completely opening or closing your shades as simple as pressing a single button.
Smart home systems often add features that allow you to control your shades via smartphone or a programmed tablet. You can even integrate these systems with combination remotes that control multiple functions within your home.
Roller shades and solar shades serve similar purposes, but with solar shades, you can control the amount of UV light that gets through. For homeowners and businesses, this is often a very good thing. Reach out to learn more about roller shades and solar shades and which option is best for your particular room or business.