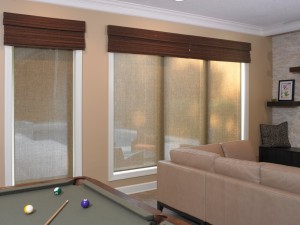 During the hot summer months, energy efficiency is more important than ever. Putting the right energy-saving tips into practice can result in a home that is cool and comfy.
While many people immediately look to the AC as the key to conserving energy when it's hot, the interior design of your home can actually offer some easy energy-saving solutions as well.
Incorporate the following guidelines to help you get started.
Tip #1: Reconsider the Paint
If you're like most people, you chose the paint for your home based on the color scheme you liked the best. A lot of people do not realize that their home's paint colors have a lot to do with how warm it can get, as well as how cool it stays.
Lighter colors like white, beige and yellow actually reflect the heat. Of course, the opposite is true with colors like red, dark green and dark blue, which absorb it. Having darker colors in your home can result in rooms that are a few degrees warmer.
With that in mind, it might be a good idea to consider having a painting party before summer really kicks in. You'll be amazed at the difference this small change makes.
Tip #2: Add Ceiling Fans
Ceiling fans are a much more energy efficient option than air conditioners. But people tend to cling to the idea of installing central air or even window units instead. The reality is that a ceiling fan can work very well, which is why many homeowners install one in every room of their home.
In addition to helping to keep your home nice and cool, ceiling fans also cost less to operate than air conditioners. Instead of constantly running your AC, try switching it off during the cooler hours (nights and mornings) and using ceiling fans instead. This will help you save some money while you improve your energy efficiency at the same time.
Tip #3: Check Your Window Treatments
The typical horizontal blinds come standard in many homes, and they're so common that people often don't stop to consider that they have other options. There are a lot of different types of window treatments that can help to keep the heat out of your home during the hot summer months.
Everyone knows that windows tend to lose a lot of heat during the winter months, but during the summer, they can easily let a lot of heat in while cool air in the home escapes. The U.S. Department of Energy states that windows are responsible for as much as 40% of the country's yearly heating and cooling costs.
The right window shades can help to keep that cool air inside during the summer months. For better temperature control and energy efficiency, try cellular shades or solar screen shades. These shades are specifically designed to filter or reflect light and insulate, to make temperature management a no-brainer.
Shutters are also a great option for helping to control temperatures in the home. They essentially act as an extra pane of glass, which blocks heat and makes it more difficult for cool air to escape.
This summer, making just a few small changes can help you keep your home cool and help you save some money on energy costs in the process.
Do you need hands-on help with improving the energy efficiency in your home this summer? Please contact us