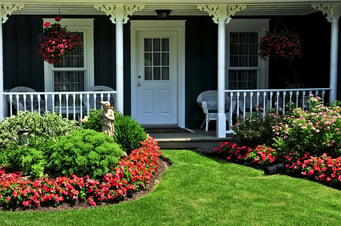 If you are like most people, when you think of curb appeal, you think of a freshly clipped lawn, a clean home exterior, and a freshly painted front door. What many overlook, however, is window treatments.
Because most people associate window treatments with interior design, they often don't consider them a factor in their home's exterior appeal, but if you have a mishmash of curtains, shades and blinds in various colors, lengths, and styles, the curb appeal of your home could suffer.
Going with a more coordinated look with your window treatments doesn't mean your interior design needs to suffer. Here are some ways to elevate your home's curb appeal with window treatments:
White Treatments
A rule of thumb for keeping a cohesive look with street-facing windows is to go with white. In fact, some Homeowners Associations require residents to stick with white window treatments for street-facing windows to prevent a mismatched look. This doesn't mean that all of your interior treatments need to be white, though. You could opt for treatments, including roller shades, drapes or blinds that are lined with white fabric. This extra layer can help protect the main fabric color from UV damage while providing a uniform white exterior.
Common Elements
If you want a uniform look throughout your home, you could choose to go with the same window treatments in all your street-facing windows or your entire home if you wish. White painted wood blinds, faux wood blinds, or shutters are an easy way to maintain a clean, consistent look throughout your home.
Maintain Symmetry
Even if you have all the same type and color window treatments, your windows might still look off from the outside. Maintaining symmetry is also important to maintaining a cohesive appearance. If your shades are at various levels with some half down, some fully open, your windows could look sloppy. A good way to prevent this is by choosing motorized shades that can be automatically set to open and close to a uniform height.
Be Coordinated
Having dark blinds, shutters, or shades can look mismatched if the exterior trim of your window is a light color. The same is true if the exterior of your home has dark window trims and you have light window treatments. Coordinating your window treatments to the color of your exterior window trim will create a more aesthetically-pleasing appearance. This can be accomplished by choosing blinds or shutters that are stained to match your existing window trim.
Best Window Treatments for Curb Appeal
If you are ready to elevate the appearance of your home with curb-appealing window treatments, All About Blinds & Shutters is ready to help. We have a wide variety of custom window treatments that will take your home's curb appeal to the next level, including:
Request your free in-home estimate today to get started on a fresh, new look for your home's exterior.