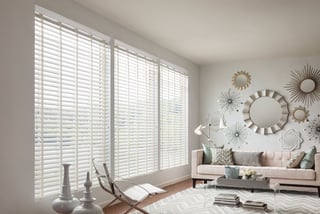 For the last few years, the consistent look for homes, including window treatments, has been minimalism. Homeowners want simplicity to enhance their home's natural beauty, including their windows. Consider some of these window treatments and décor ideas for bringing you one step closer to your dream home this year.
Honeycomb Shades
Honeycomb shades are stylish and sleek while also being environmentally friendly. The structure of the blinds traps air and adds more insulation to your windows. They are a perfect, simple addition to a minimalist look and have different opacities depending on your needs.
Roman Shades
This versatile window treatment can work well in almost any décor. While Roman shades have never really been unfashionable, they are becoming more popular again because of the resurgence of minimalism. They have simple, crisp lines and are perfect for creating a relaxed and comfortable environment. In addition, they can work well in most rooms, including bathrooms and kitchens.
Aluminum Blinds
Aluminum blinds add an industrial-chic feel to any room in the home. These blinds are not only stylish, but are also incredibly efficient for controlling light transmission. Add a little more of a retro feel by choosing a wide decorative tape to accompany your aluminum blinds.
Layering
Layering involves using two different types of window treatments in combination. For example, layering can provide you with the ability to have the privacy and sun-blocking benefits of blinds, shutters or shades with the luxurious look of drapery. It is important to ensure that the colors used for both window treatments are consistent.
Sheer Fabrics
Sheer fabrics can make a room feel warmer while still letting sufficient light in. These days you can find sheer fabrics in a range of colors so you will not be limited to white or cream colored window treatments.
Woven Wood Shades
These days, many interior decoration trends (including window treatment trends) revolve around bringing the outdoors inside. Products made from all natural materials, such as woven wood shades, have actually become less of a trend and more of a fundamental aspect of modern interior design. The weave of the shade can even control the light of the room making a perfect addition to any home.
There is a wide array of options when it comes to updating your window treatments. If you need help achieving the look of your dreams for 2017, contact us at All About Blinds & Shutters today!