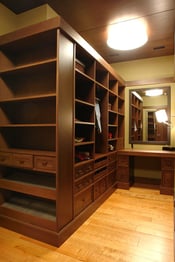 Your home is not just a place to relax, it is also one of the most significant investments you will ever make. But many people make the mistake of believing that after moving in, daily maintenance tasks are the only things that need to be done. Regularly updating your home, particularly in areas you may easily overlook, can make a huge difference in the ultimate value of your home. Upgrades like customized closets can maximize your available space and make your living area feel more comfortable. Many home upgrades are also increasingly necessary to capture your share of a competitive real estate market. Here are some upgrades that are well worth considering.
Plantation Shutters
Shutters are one of the home upgrades that make a much bigger difference than you might think. Plantation shutters not only improve the overall appearance of your home's interior, they can also help with managing your indoor heating and cooling. The plantation style of shutters features wider slats, many of which also have separate top and bottom louver closure to allow further customization of which section needs more shade.
Customized Closets
Closets are an important part of your home for adequate storage of clothing, shoes, accessories and other apparel. However, the regular closets that come standard in most homes have very limited storage. A simple clothing rod or two and a few built-in shelves can lead to a huge, disorganized mess. Clothing and shoes for multiple seasons may be difficult to store separately and can be hard to access when needed. Customized closets are not just for the rich and famous anymore, though. These custom closet designs can include extensive organization systems which may not only make it easier to find your clothes, they can also make your entire bedroom look neater and more organized as well. Don't forget that customized closets can even work in bathrooms to store linens.
Make a Backyard Oasis
The lengthy warm season and mild winters make Florida an ideal place for creating a relaxing backyard oasis. So many Florida homeowners find it useful to have an in-ground pool that it is a worthwhile investment to add one to your own home. Consider adding some extras to beautify your yard, such as decorative plants and trees, along with a pool.
Extra Lighting
Custom lighting can also make a home look more warm and inviting. Can, pot, and puck lights are all forms of custom lighting that can create a whole new atmosphere in your home. Recessed lighting under top cabinets are especially popular in the kitchen because they shed extra light that can be used during food preparation. Three-way light switches and lights that can be turned off in multiple parts of a room also provide additional convenience.
Motorized Shades
Traditional window treatments like blinds are commonly used, but they do have some undesirable features. Manual operation means that you have to control when they are opened and closed. What's worse is that the cords can present danger to children and pets. Motorized blinds are a safer and more convenient alternative, with easy hands-free use. They can even be programmed to open and close at pre-determined times. Save time and effort just by pressing a button or turning on a switch.
Save Money on Cooling Off
Keeping your home cool is a huge concern in Florida. If you have an older air conditioning unit, upgrading to a new air conditioner can be one of the best investments in your home that you can make. Newer air conditioning systems are better for the environment and are much more energy efficient, which can save you money on those huge electricity bills.
Appliance Upgrades
Today's home buyers are more discriminating than ever and upgraded appliances are on the wish lists of many. Outdated appliances may scare potential buyers into thinking that they are facing the need for repair or replacement, to say nothing of the cosmetic preferences. Current trends favor stainless steel appliances, but trends can change relatively quickly. Keeping up with style trends can be a great way to refresh the look of your home.
Structural Upgrades
Although pretty new bathrooms and kitchens can have visual appeal, structural issues can present a much bigger problem if not properly addressed. A worn or leaking roof could be a very costly repair that could lead to substantial damages. Water leaks in the foundation could lead to damaged flooring as well as cause a very unpleasant musty smell throughout the whole house. Upgrading the essential structures of your home will make your house more functionally sound, prevent future damages and make it a more comfortable place to live in the meantime.
Whether you decide to choose customized closets, new window treatments or other home upgrades, you want to make sure that you do it right so that your investment will pay off. Call the professionals at All About Blinds & Shutters today.