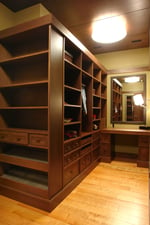 Custom homes have become one of the more popular trends in recent years. Your living space should be designed to fit with your own lifestyle and needs. Since the storage space in your home is one of the more important factors in how you live your life, getting a custom closet should be on your list of essential home upgrades. Below are some of the ways that you can benefit from a custom closet.
Reasons To Invest In A Customized Closet
Efficiency: A well-designed custom closet places all of your clothes and shoes within easy reach. This is a valuable benefit if you have a lot of clothes. Consider the fact that it takes a long time to find anything in a cluttered space. Custom closets with organization systems in place can reduce clutter in your home and remove some of the frustration from your life.

They Can be Personalized: They are custom closets, so they are designed just for you. For example, if you are a tall person with a long inseam, a custom closet can be made to perfectly accommodate your wardrobe. Do you prefer to have your shirts folded or on hangers? Will the closet be used by two people? Whatever your needs and preferences, a closet designer can take them into account when creating a storage space for your home.

They are Designed for Your Home: Older homes often have fewer and smaller closets while some newer homes have odd floor plans that may not accommodate a standard closet. The fact that a custom closet is designed specifically to work in your home means that even with space limitations you can still have a functional closet. The designer will take the constraints of your home into account. What may seem like too little of a space may be turned into a closet that is exactly the right size.

They Add to Your Home's Value: If you plan on moving at some point, note that a custom closet can be the addition that makes your home stand out to a prospective buyer. The modern homebuyer wants more than just the standard closet with rods and hooks - they want something that provides clear and obvious benefits. They will love the fact that the means to organize their possessions is already in place. Your home may be able to fetch a higher price and sell faster with a unique custom closet.

Custom Closets Can be Adapted for Different Needs: You have the ability to choose a custom closet design that is flexible. That way, new homeowners can adjust the configurations to suit their needs. If you have no plans to sell your home, this flexibility can come in handy for a closet in a child's room. Children's storage needs will change as they grow. A closet that can be easily modified will grow with them.

You Can Make Custom Closets Aesthetically Appealing: A custom closet is not just a practical benefit, its various elements can be chosen to fit with your home's existing décor. There are different types of wood and different colors, all of which can be used to create something that will appeal to your tastes.
Useful Elements in Custom Closets
Here are several practical elements that can be added to your custom closet to make it more useful:
Good Lighting: This is just as important as having shelving, cabinets and drawers. After all, what good are all those storage options if you cannot clearly see your possessions? Good lighting allows you to easily find items and thus cut down on the time you spend looking for things.

Drawers: These may be used for everything from socks to miscellaneous items that you want kept out of the way until you need them. You can also get drawers with locks to better secure your possessions.

A Storage Island: Yes, you can have one in your kitchen and another in your closet. An island gives you a convenient surface on which you can lay out clothes or fold your laundry.

Shelves: Shelves are good way to organize items while keeping them in view. You can have them fitted with dividers to enable easier organization.

Color and Design Touches: Just as with the rest of your home's design, you can use your closet as an expression of your tastes. From soft pastels to bright hues, you can choose the accents that will bring your closet in line with your preferences.
The value of a custom storage space is not limited to clothing and bedrooms. You can get custom pantries, custom closets for your linens or for a child's playroom. A custom closet may not be the most glamorous home improvement, but it is certainly one of the most practical. As an investment, it can be among the most rewarding. As a tool for making your life and your living space more organized and enjoyable, custom storage space is invaluable.