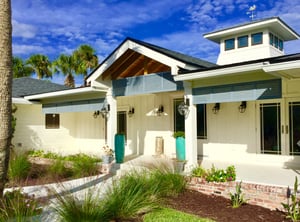 Jacksonville summers are all about the sunshine! While you and your plants may be thoroughly enjoying soaking up the sun, your air conditioner can't say the same. Most of us rack up significantly higher energy bills as we try to stay cool during summer. One way to minimize those increasing energy costs is to update your window treatments.
Window Treatments and Home Efficiency
During the summer, the sun and heat radiate through the glass to pull your inside temperature outside of the comfortable range. While a common solution for energy efficiency is installing double-pane windows, it probably doesn't come as a surprise that your window treatments also have a profound effect on your energy efficiency when it comes to temperature regulation.
Your window treatments are a simple but effective line of defense against temperature creep. Closing your blinds or shutters, or lowering your shades can drastically affect the warmth of a room. Bear in mind that not all window treatments are created equal: Some offer better home efficiency than others.
Which Window Treatments Offer the Best Energy Efficiency
Ready to up your efficiency and keep energy bills low this summer? These options are the perfect place to start. They are budget-friendly, stylish, and functional ways to keep your home cool and comfortable throughout the summer months.
Cellular Shades – Cellular shades are the best option for energy-conscious people who want to save money on their monthly bills. The honeycomb design traps air as a buffer against the heat outside. They come in a wide variety of colors and can be made safe for children's rooms.
Solar Shades – Solar shades offer tremendous light control as well as home efficiency. They will make a big impact on the temperature of any room you are in without making a big impact on your wallet.
Plantation Shutters – Plantation shutters are a classic solution for any room in your home. Today, many more options of shutters are offered than in the past, and you can choose a traditional or modern aesthetic based on your preferences and options available.
All About Blinds & Shutters Helps You Keep Your Cool This Summer
No matter if you're concerned about energy efficiency or you just want a new look for your interiors, All About Blinds & Shutters can help you achieve your window treatment goals. Contact us to learn more or schedule a visit to our showroom!