Windows are the source of 30% of a home's cooling and heating energy loss according to the US Department of Energy. This means window treatments are one of the most important tools in your arsenal for energy efficiency in your home. Which kind of window covering offers the best protection against energy loss? While all of them will help insulate your home, shutters are a superstar!
Why Shutters are Your Friend in Going Green
When you look at a gorgeous set of shutters, they may not first strike you as marvels of energy efficiency, but looks can be deceiving. Shutters enclose the entire window frame, which creates a sealing effect. Their construction also blocks the transfer of heat between the temperature outdoors and the one inside your home better than many other window treatments. How much better depends on the specific construction of your windows and shutters.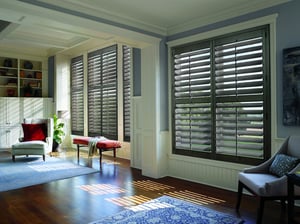 For a little science, take a look at the R-Value of window treatments. "R-Value" refers to how much a certain material slows down the movement of heat from one side of the material to the other. The higher the number, the more energy efficiency it offers, and the more you can save on utility bills. Normal horizontal blinds have an R-Value between one and two. Shutters usually have values between three and six.
Choosing Shutters to Suit Your Needs
Solid polymer shutters come in a beautiful variety of styles that will suit any room. They have the durability to endure years of use without losing their visual appeal. For insulation purposes, they are a terrific choice to keep the summer heat and winter chill at bay!
For a classic beauty that will withstand the test of time, wood shutters are a perfect choice. These can be matched to the stain colors of floors or furniture, so you can tie the aesthetic of your room together. Because they are light yet sturdy, they can span large windows with ease. They also provide solid protection against heating and cooling energy loss. And since they come from sustainable, protected resources, you can trust they are a green choice in more ways than one.
Increase Your Energy Efficiency With All About Blinds & Shutters
Have you noticed temperature troubles in the rooms with the largest windows? Want to get ahead of the energy curve with efficient window treatments? Contact All About Blinds & Shutters today!