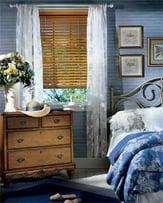 Your room is your sanctuary for sleep and relaxation. The atmosphere you experience before you fall asleep each night and wake up to each morning can alter what the rest of your day will be like. Whenever you feel it is time to update or replace the window treatments for your bedroom, there are several things you will need to take into account such as privacy, light control, child or pet proof options, budget, maintenance, desired atmosphere, if you want to fit the newest window treatment trends, and more. For whichever options you are looking for, or concerns you may have, All About Blinds is here to help you.
Privacy and Light Control
Window treatments can provide light and privacy; so your choice comes down to how much light you would like to block out or let in. This will be determined by whether you would like your bedroom to feel spacious and airy, or more cozy and snug.
If your ambition is to block every bit of light for uninterrupted sleep, then blackout curtains may be just the treatment for you. This is very beneficial for light sleepers, shift workers, and even babies who have a difficult time sleeping or napping during the day. Some blackout treatments can even stop up to 99% of light from enteringinto the room. Another great thing about black out treatments is that they can filter around 40% of the outside noise from entering the room through your windows. They also help to reduce your energy costs, by keeping the heat in
during the winter and reflecting the heat out of the room during the summer.
If you would rather let in as much natural light as possible for warmth and brightness, then a sheer fabric might be your best option. Sheer shadings can offer from 90% to 95% UV protection, yet still provide a soft, diffused and natural lighting for an airy atmosphere. They may not provide as much privacy as the blackout options.
Blinds vs. Shades
If you are looking for louvers that are tilt-able, as well as adjustable, in order to block the sunlight, or let more in, then blinds are your best option. With blinds, you do not have to pull them up halfway to let light in; just slightly open the louvers to control the amount of light brought in. Blinds can come in many different materials. Wooden blinds come in different hues and painted colors. Insulating blinds, however, help conserve energy, as well as block or filter light. The only downside about blinds is that they attract more dust and particles, and need to be cleaned often.
If you need something more for style and versatility, creating different looks and moods, then shades are the best choice for you. Shades are an easy way to update and refresh your room, and provide a softer look than blinds. Woven wood blinds offer natural-looking coverage, whereas tight weaves provide optimal privacy, yet not quite as much privacy as blackout shades would provide. If you are looking for more of a romantic style, the subtle folds of the Roman shades are just for you. If you use various ways to save energy in other rooms of your home, you can do the same with Honeycomb and solar shades in your room.
Other Options to Consider
Window treatments serve both useful and stylish purposes. With that in mind, you should check out a few other options. If you have a rolled up shade or blind, a cornice is a great way to cover it when it is not in use. A cornice is a structural piece that can go above your window. For more privacy and a pop of color or texture, choose a drapery panel. Plantation shutters can also add a touch of creativity, along with privacy to your room. You can even mix a couple of the styles for a more unique look. You also don't want to forget your rod options that will add more character to your window area.
Budget
When it comes to figuring out the pricing of your window treatments, you need to take into account the type of fabric, amount needed, and whether or not it will need to be custom sized. Keep in mind that treatments are priced by the size, so the larger the treatments the higher the cost.
To keep from spending more money than you need to, you need to make sure you measure your windows correctly. Using a steel measuring tape, measure exactly where you want your treatments to be. If you want an outside-mount blind, include the window frame while measuring; however, if you would like an inside-mount blind, stop your measurements at the frame.
Maintenance
Standard blinds can be cleaned at home, but can frequently collect dust, meaning they will need to be cleaned often for a cleaner bedroom. Shades made from textured weaves and fabrics will hide soil better, and can also be easily vacuumed or professionally cleaned.
Decoration
Think about your decoration preferences. Do you enjoy chic or casual? Is your room decorated boldly and in need of other dramatic and bold colors? Is your room decorated natural and earthy and in need to subtle hues? Keep these questions in mind, and bring pictures of your room, when you are shopping.
Safety
If you have children or pets in your home, you need to choose a type of window treatment that will not be a hazard. You may need to go with streamlined blinds and shades. If you already have the cords on your treatments, make sure they are tied or tucked away to keep out of reach of curious hands or pet claws.
If you still need help figuring out which window treatments options will work in your bedroom, get in touch with us at All About Blinds, where customer satisfaction is our number one goal. We will help guide you through your options, in order to ease stress and help you make the best decision.