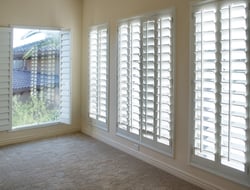 The start of the New Year marks the perfect time to update your window treatments. 2015 has brought with it a variety of new window treatment trends and All About Blinds is ready to help. While many people may not see window treatments as a decorative priority, the fact is that they can make a major difference in the look and feel of your rooms.
Wood Blinds
Blinds made from wood instead of those made with less durable plastic have become popular. Not only are these blinds better able to handle the wear and tear that comes with normal use, they can also make for energy efficient windows by keeping sunlight out of a room. Limiting sunlight will make your home cooler in the summer. Recent trends with blinds include Japanese "night and day" blinds that can be adjusted according to the amount of light coming into a room.
Energy Efficient Windows
Your options for energy efficient windows include louvered shutters and roller shades. Along with their energy saving benefits, energy efficient windows also help to protect items in your home from sun damage. Consider the fact that the sun's rays can cause damage to your rugs, paintings and the fabrics on your furniture. It is especially important to limit the amount of sun that comes in through west-facing windows as this light tends to be the hottest thus requiring more coverage.
Natural and Organic Materials
Along with energy efficient windows, organic materials in general have become trendy and many designers are opting to use elements like burlap and bamboo. Window treatments made with these materials may be used anywhere in your home, from your kitchen windows to those in your living room. Along with being fashionable, these materials can help to give your home a more relaxed and casual feel.
Floral Patterns
There has been a return to the pretty window treatments of long ago, as opposed to the more recent trend of fretwork. Smaller patterns no longer dominate the window treatment industry. Instead, contemporary buyers want bright floral patterns and geometric prints. Designers are using Art Deco and other lighter, more delicate looks. The use of floral patterns includes modern takes on traditional patterns. Curtain rods and finials with delicately carved floral motifs are among the decorating options that go with this trend.
Layered Lighter Fabrics
With the recent design trend toward more open rooms that flow into each other, the use of lighter fabrics for window treatments has also become trendy. These fabrics may be layered creatively for attractive window treatments. Designers are also adding touches like beading and appliqués to their fabrics and using materials like leather.
Layering options include simpler drape over drape options along with shaped valances that include both sheers and drapes. Contrary to tradition, these are even being utilized in kitchens. Sheers have the benefit of softening the light in a room. Colored sheers can be used to add whatever hue you like to the light. The use of laser cut fabrics is another popular way to add textural interest to 2015 window treatments.
Clean, Simple Lines
This trend toward a minimalist aesthetic is not limited to window treatments as it will dominate all aspects of home design. However, when it comes to window treatments, expect a sleek and clean contemporary look and even more widespread use of panel track systems.
Luxury Fabrics
Among the fabrics included in this category, you will find damasks, suede, even fur. These fabrics are popular even though the overall trend continues to be towards simplicity, minimalism and clean lines. The economic turnaround has given rise to consumers who demand luxury. To provide your home with an even more royal and lavish feel, consider the addition of embellishments like tassels and crystal.
State of the Art Technology
The tools for controlling your window blinds include remote controls, controlling them via the light switch and even the Internet. High tech options are expected to abound in 2015.
Calm, Soothing Tones
Red is out. Buyers want to give their rooms the calm, soothing feel that ocean hues provide. If you want to add sophistication and elegance to a room, consider using jewel tones for your window treatments in 2015.
If you need help figuring out which trends will work best in your space or if you want ideas for energy efficient windows, get in touch with us at All About Blinds. We can help you to sort through your options and pick the right window treatments for 2015.