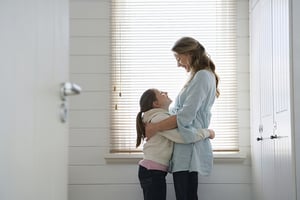 You wouldn't think something as common as window coverings would merit a whole month of focus, but window cord safety month was started for a very important reason. After nearly two hundred deaths of young children, the Window Cord Safety Council was formed. They, along with the U.S. Consumer Product Safety Commision have worked diligently to see that parents are informed of the possible hazards of window blinds made before 1991.
Window Cord Safety Council
Who are the people who make up the Window Cord Safety Council? They are a group of major U.S. manufacturers, importers and retailers who are in the business of window blind coverings. They recognized the major need to educate the public on the hazards of window cords and they formed a commission in 1994.
In addition to educating the public on the dangers of window blinds made before 1991, this group provides consumers with kits that retrofit their old blinds if they can't replace them at the moment. The kits are considered a temporary way to help make the blinds safer but they do not eliminate the danger completely. The whole idea behind window cord safety month is to help consumers understand the importance of replacing their old blinds with one of the newer, cordless versions. These are much safer and eliminate the chance of a child becoming entangled in the cords and dying from strangulation.
Legislation has been put into place that raises the standards required of manufacturers of corded and tension window coverings. These higher standards do make the blinds safer but errors can occur in hanging the coverings and accidents still occur. There is at least one child death a month due to cords according to the Window Cord Safety Council. This is still unacceptable. The council will not rest until all window coverings have been replaced and children are completely free of the dangers associated with these products.
The Sad Facts
Corded window coverings are considered one of the five hidden hazards in a home. Between 1991 and 2003, there were 174 strangulation deaths of children under the age of six, due to window cords. Since then, at least one child dies every month due to window cord strangulation. Children are curious by nature and finding they can manipulate a blind with the pull of the cord fascinates them. However, they can quickly become tangled in the cord and unable to release it either because they lack knowledge or skill. Struggling tightens the cord and a child can become unable to call for help. Younger children still crawling may try to put their heads between the blind slats in order to see outside. They find they can't back out of the situation and end up being strangled.
Safety Precautions
There are a variety of things you can do if you must keep blinds with cords because of limited finances at the moment. They may not eliminate the danger completely, but they will make an accident less likely to occur. During window cord safety month, make it a priority to check all your blinds and replace any that are broken. In addition:
Move anything away from windows that gives a child access to them. This includes cribs, bed, chairs and anything else that can be climbed on.

Shorten all pull cords as much as possible and anchor them to a wall. Placing a nail or hook high enough so the child can't reach it and wrapping the cord around the hook helps add safety.

Make sure everything is installed correctly and the cords are all tight.

Install cord stops to make the inner cords immobile so young ones can't get their heads through the slats in the first place.

If you can't afford to replace your blinds immediately, you can get a free repair kit by calling the Window Covering Safety Council at 1-800-506-4636. This won't prevent accidents but will make the coverings safer until they can be replaced.
Alternatives
There are numerous cordless alternatives to the older corded window blinds that will have you wondering why you didn't make the change sooner. The newer products are not only safer, but are even more appealing to look at. All About Blinds wants to help keep every child safe. During window cord safety month, take time to visit and check out all the alternatives we offer.
Our selection includes aluminum, wood, faux and vertical blinds and all are designed with safety in mind. We can provide a look for whatever your decor happens to be and will gladly answer all your questions. We also offer free in-home estimates by one of our professional consultants. As parents, we know how much your child's safety means to you and our aim is to provide you with both style and safety by offering you cordless alternatives to all your window covering needs. Don't let window cord safety month pass without taking a look.