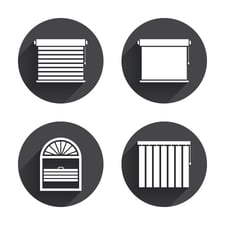 Choosing the right window treatment for your home is a big decision. Your window treatments will affect the feel of your home, from how much light is filtered through during different times of the day to how easy they are to use on a daily basis. Privacy, beauty, and expense are some other concerns that you might have when looking for window treatments. Read on to learn more about some of the most common window treatments and their advantages and drawbacks.


Blinds
Blinds are window treatments that are slatted and can be raised or lowered. The vanes (or slats) can also be adjusted to open or close to control how much light goes through. They are made of aluminum, faux wood, or wood. The slats can be horizontal or vertical.
Many homeowners like the flexibility of blinds, since you can adjust the light and privacy to your preferences. They also come in several different colors and stains, so you can choose blinds that suit the decor of your home. If you're looking for an affordable window treatment, aluminum and faux wood blinds are your best choice. Wood window treatments add a lot of richness and character to a home.
Blinds might not block out all the light, nor give you the privacy you need. Test out the blinds at our showroom to see if blinds are right for you. You can even take a sample home to test it out there.


Shutters
Shutters are window treatments that are installed directly to your windows and become a part of your home. Often, they can increase the value of your home. They often come with slats that are adjustable and they are tailored to fit your windows.
Shutters, or plantation shutters, are highly desirable and can add a lot to the look and feel of a room. You can choose from various styles to fit your decorating style to give your home a polished look. Shutters can also add insulation to your home, keeping it cooler in the summer and warmer in the winter.
Because shutters are a permanent addition and highly functional, they are often more expensive than other window treatments.


Shades
A shade is a window treatment that you pull down to cover the window or push up to expose the window. There are no slats, so a window shade is either open or closed. There are several different kinds of shades, such as honeycomb shades, roman shades, and screen shades. They all will give you varying levels of privacy and light control.
Window shades are highly affordable and very stylish, since you often can choose from a wide range of colors, materials, and fabric designs. You will be able to find a window shade that fits your budget, from a simple, solid shade to a trendy shade made with a designer fabric.
You can customize a shade to meet your needs with many options including blackout fabric, motorized control, cordless shades, and UV protection.


Whether you're still undecided or stuck between two different types of window treatments, give us a call at
All About Blinds
for some expert advice customized to you and your home. If you've chosen a preferred window treatment, we have a wide variety of products for you to consider and we'll be able to answer any questions you may have.
Contact us
today to start the process of outfitting your home with beautiful and efficient window treatments.