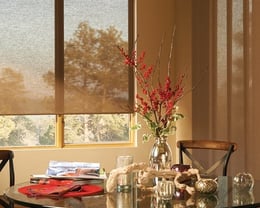 Whether you are moving into a new home or just want to update your present one, blinds can be a cost effective way of sprucing up your windows. Blinds can be decorative as well as functional. They can be used both to dress up a room and to create privacy, unlike curtains, which are usually more for decoration than anything else. So how are you to choose the best blinds for your home? Below are some of thefactors that you should consider.
The Right Material
Blinds are available in numerous styles, colors and materials. The material used to make them is one of the main factors in their function and in where they are best used. For example, some materials may be better for your kitchen and others in your living-room.
The Different Style Options
When shopping for the best blinds for your home, you will want to pay attention to the different designs. Here are a few of the more popular ones:
Roller Blinds
These are one of the more cost effective options. They consist of a roll of fabric that can be moved up or down depending on how much light you want to let into the room. They are effective for controlling light and for providing insulation in the winter.
Cellular Blind
Like roller blinds, these blinds are retractable. Cellular blinds consist of honeycomb shaped cells that extend when open and stack when closed. You have the option of choosing the patterns and colors that work best with your décor. You can also choose your preferred opening style, whether from the top or from the bottom or both. You can let light in through the top or bottom half of the window while retaining some amount of privacy. Cellular blinds can be kept clean with a feather duster and a damp cloth.
Venetian Blinds
These blinds run horizontally and the slats can be ordered to fit any window size. While they do not block light out completely, closing the slats can effectively dim the light coming into a room.
Vertical Blinds
These are a cost effective way to make a space private. They consist of vertical slats that you can adjust to let more or less light into the room. They can be made from a variety of materials including wood, fabric, and plastic.
How to Choose the Right Blinds for the Rooms in Your Home
Look at the function of each room when choosing the best blinds for your home.
Kitchen Blinds
Blinds that block out harsher light are important if you spend a lot of time working in your kitchen. Choose blinds made of easy-to-clean materials like vinyl or opt for blinds made with engineered wood ("faux wood").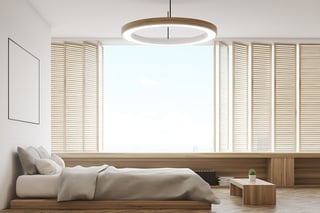 Bedroom Blinds
Create privacy and block out the light with Venetian blinds made of wood, vinyl or aluminum. Look for blinds that close tightly enough to keep you room dark.
Living Room Blinds
If you use your living room to relax and for entertaining guests, your options include wooden blinds to give the space a refined and sophisticated look. Darker wood blinds are versatile in that they can be made to work with just about any décor
Patio/Balcony/Porch Door Blinds
Vertical blinds are useful for accenting the sliding door leading to your balcony, porch or patio. White vertical blinds are popular for this purpose, and they are easy to clean too. Fabric blinds can serve as a decorative element to make your home feel more stylish.
Factors to Consider When Shopping for Blinds
Choose the best blinds for your home by keeping your priorities in mind. Consider factors such as:
Privacy
How much light do you want in the room? Decide beforehand whether you want a cozy, secluded atmosphere or one that is more bright and open.
Cost
Obviously, there is a big difference between buying blinds for one room and outfitting all the windows in your home. If you are buying for multiple windows, consider prioritizing some and cutting back on the others. Keep in mind that the size of the window will determine the cost of the blinds.
Ease of Cleaning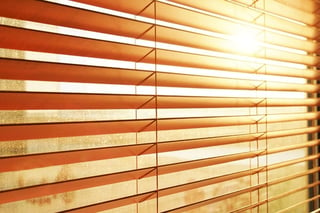 How much time do you want to spend cleaning your blinds? Blinds tend to attract dust and will need to be cleaned frequently. You may want to consider those materials and colors that do a better job of hiding dirt. Each of the different types of blinds can add something new to your home. Choose the best blinds for your home by considering each type in light of your priorities and your present decor.
If you decide that it is time your home gets a new touch, call the experts at All About Blinds and Shutters. With our wide range of knowledge from faux blinds to stained wood, we will make sure that your renovations are stunning by the time we are finished. Just call us today at 904-503-6393 or visit us at http://www.allaboutblinds.net/ to get your free estimate.