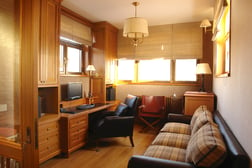 Telecommuting has become a mainstay of the modern work environment. While many people take advantage of the occasional day to work from home, a significant portion of the worldwide workforce can now do all their tasks from the comfort of their homes. The popularity of telecommuting has brought the home office into the spotlight.
Whether you only occasionally work from home, or you have transitioned to working from home full time, you deserve more than a desk in a corner. Create a haven for productivity with a few simple steps!
Choose a Color that Inspires
Forget popular trends and style magazines unless those speak to you on a personal level. Select a color for your home office that is inspiring without being distracting. Small offices may benefit from a single, lighter shade to present the illusion of space. Those wh
A Little Green Goes a Long Wayo work in creative fields may find multiple colors invigorating. The possibilities are endless!
Most professions require a great deal of time spent indoors. Adding a plant or three to your office can bring nature to you, and lift your mood while you stay inside. Sunny offices may do well with easy-care succulents, while darker offices may benefit from plants that need less sunshine.
The Art of the Home Office
Just because you work in your home office does not mean the space ne
eds to stay industrial and plain. Adding art to the walls and shelves brings your personality to the fore, and creates a space you will enjoy spending time in. Whether you prefer prints or action figures, decorate to your heart's desire!
If you are freezing in winter and scorching in summer, you will be far less productive than if your office stayed at a temperature you preferred. Space heating or small air conditioner units can help during days when the temperature hits the extremes. A good set of
blinds or shades can also help you regulate temps in your office
.
Stay Comfortable
Let There Be Light – Or Not
Natural light is better for your eyes than fluorescent bulbs or even LEDs. Fit your home office with beautiful and functional blinds or shutters so you always have the light you need.
Let All About Blinds & Shutters Transform Your Home Office
Your workspace influences everything you do for your job. Let All About Blinds & Shutters help you create a space where you can accomplish anything. Contact us today for a free consultation with one of our design experts!