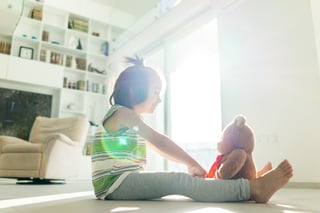 If you're a parent of young children, you're probably highly concerned about keeping your home safe. You've childproofed your home and put away all the dangerous items and chemicals. However, there is a dangerous hidden hazard that might still be in your home. Corded window treatments, such as blinds, can lead to child strangulation, resulting in death or severe injury. Keep your kids safe by using an alternative to blinds that are don't have any cords. However, there are alternatives to blinds that are more suited to a Jacksonville home with young children.
The death of young children due to window cords have been widespread and frequent enough to warrant a month dedicated to informing the public about the danger of corded window treatments. The month of October has been designated as the National Window Cord Safety Month. This awareness campaign is sponsored by both the Window Covering Safety Council and the U.S. Consumer Product Safety Commission. Part of their campaign is to inform parents about the alternatives to blinds!
Dangers of Corded Window Treatments
Just how dangerous are corded window treatments? According to a study by CPSC, nearly one child every two weeks are strangled by a window cord. Most of these children were 3 years or younger. Horizontal window blinds are the most dangerous type, accounting for 57.5% of the deaths and injuries to children. Vertical blinds are second at 17.3%.
There are four ways that the cords in window treatments can cause injury to children.
Pull cords can wrap around a child's neck and get stuck.

The use of a cleat to wrap around pull cords doesn't make corded window treatments safe, since the cords above the cleat can still strangle a child.

Looped bead chains or nylon cords can easily go around a child's neck, as can the lifting loops of roll-up blinds.

The exposed inner cords of Roman Shades also present a strangulation hazard, since children can pull these cords out and put their necks through them.
If you have window blinds that were bought before November 2000, they might have inner cords that pose a serious threat to young children. There are free retrofit kits that can be ordered from WCSC, but they don't address all the dangers associated with cords in window treatments.
Cordless window treatments that have no accessible cords, on the front or the back, are the safest option. The alternatives to blinds include plantation shutters, cordless shades, and motorized window shades, which are great options for a Jacksonville home with young children and pets.
Plantation Shutters
Plantation shutters are much safer than blinds since they do not contain any cords. They are built right into your windows and you can open and close them by pulling on the tilt rod, which is the bar in the center of each panel that rotates the blades.
Shutters will keep your home safe for your children and pets, but that's not the only thing that makes them more desirable than blinds. Other benefits of plantation shutters include:
better insulation compared to blinds

complete light control

superior durability

easy maintenance

versatile aesthetic that goes with most looks.

increases the value of your home

improves your curb appeal
Cordless Shades
Another alternative to blinds are cordless shades. There are several options for cordless shades:
shades that use a wand instead of a cord or chain

spring-loaded shades that go up and down when the bottom rail is pulled

shades that have motorized capabilities
A great option for a cordless shade is a honeycomb shade. They have excellent insulating properties, helping your home stay cool during the hot Jacksonville summers and enabling you to save money on energy bills. Cordless honeycomb shades can come with a light dimming lining, making them a great alternative to blinds for a young child's room.
Other advantages of cordless honeycomb shades include:
an uninterrupted view out of the window when raised

varying opacity levels, from light filtering to dimming

the ability to be customized for specially shaped windows

comes in different colors to match your home's decor
Motorized Window Shades
You can request almost any window treatment to be automated with motorized capabilities. This gives you hands-free, electronic control over a window shade, which eliminates the need for any dangerous cords in your home.
Here are some more benefits of motorized window shades:
convenient for windows that are out of your reach or hard to adjust yourself like very high windows or windows over bath tubs

can be controlled using a remote control, an iPhone, or a touch screen or wall panel that is used in home theater systems

can be scheduled to automatically close at a programmed time daily
Keep Your Home Safe
Check your current window treatments to see if they have hidden cords that might pose a danger to your children. If you have corded window treatments, consider investing in shutters or cordless shades for the safety of your children and your peace of mind.
Contact us at All About Blinds & Shutters to talk about the alternatives to blinds that are cordless. We'll work together to ensure a safe home for your children and your pets. We also offer free in-home estimates, as well as schedule an install date for you!