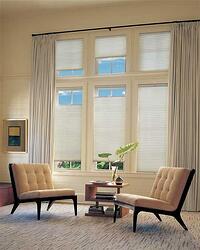 Honeycomb shades get their name from the shape of cells they contain which resemble hexagonal honeycomb. This unique design adds insulation to windows when the shades are drawn and retracts smoothly to let in light without compromising its beauty or the view of the outdoors.

Honeycomb shades are available in one to three layers of cells. Each layer improves the shade's ability to block light and increases insulation. The thicker the shades, the higher the energy-saving potential, especially in excessively hot or cold climates.

There are a number of ways to operate cellular shades depending on the specific design, including a pull-cord, a kid-safe cordless design, or the latest "smart" shades which allow users to manipulate their shades at the touch of a remote control or iPhone.

The unique design of these shades offers more than protection from unwanted light in the home, however. It is important to consider the additional benefits of honeycomb shades when deciding whether or not to add them to the interior design of a home.

Honeycomb Shades Offer Optimum Privacy Control

Similar to standard blinds or roman shades, honeycomb shades retract upwards but they can also retract from the top-down or from the middle outward to allow perfect light control without compromising privacy.

Privacy can be achieved in bedrooms and bathrooms by lowering the shades from the top down. This will let natural light enter the room while blocking beds and bath tubs from the outdoors. Conversely, kitchens or other standing rooms can be bright and airy without risking sun in the eyes by raising the blinds from the bottom. Sitting rooms or rooms with exceptionally tall or wide windows can also be lit accordingly by opening the shades from the middle.

When choosing the best shades for each room, it is also important to consider the amount of direct versus filtered light one wishes to incorporate into the design scheme. For example, while some honeycomb shades are dark and thick enough to provide a black-out option, others are sheer which allow light to pass through while still providing much-needed privacy.

Honeycomb Shades Regulate Heat Loss In The Home

Approximately one-third of a home's heat is lost through windows and doors according to the Natural Resources Defense Counsel. Be it due to thin glass, a poorly insulated frame or weak seals, the more out-dated windows a home has, the higher the likelihood the house will leak.

But window replacement can get quite expensive, especially in a large home. Fortunately, the use of honeycomb shades can compensate for the lack of window insulation for a fraction of the cost of window replacement because the design of these shades trap air in the individual cells so that it will not pass through the window. It can be retracted when the days are nice allowing fresh air to enter, then drawn again during hot days or cold nights to keep conditioned air where it belongs - inside of the home.

Honeycomb Shades Boast Beautiful Interior Design

One great way to add personality to a room is with the addition of colorful window treatments. Honeycomb shades are certainly no exception to this rule as they come in a wide variety of colors to match any décor.

Because honeycomb shades block harmful UV rays from entering through windows, the use of these shades throughout the home can help protect and lengthen the lifespan of precious home accessories such as furnishings and wall art.

These shades also provide texture to a room which adds an eye-pleasing dimension. The simple pattern of cellular blinds against otherwise flat walls means that, not only visual, but tactical senses will be stimulated upon entering the room. Couple this with optional custom designs to fit into unique window shapes and you've got a room that is both functional and aesthetically pleasing.

Honeycomb Shades Are Easy To Maintain

Keeping cellular shades clean is easy because of their solid design. Most shades can be cleaned with a dry cloth or a simple spray fabric cleaner. It is important to clean honeycomb shades properly.
It is important to let the shades dry completely before retracting them to avoid the risk of mildew.

Wipe the shades horizontally to avoid damaging the creases in the fabric.

Note that excessive cleaning can damage seams and pleats so cleaning shades should only be done as needed, especially if fabric cleaners are used.

Not all honeycomb shades are made the same way. Before attempting to clean your shades on your own, contact us and we can tell you the exact cleaning method that would work best for your personal treatments.
Honeycomb shades are a great addition to any window due to their versatility, beauty and ease of maintenance. Not only do they increase the aesthetic appeal of both the interior and exterior of a home, but they increase the home's energy efficiency, as well by trapping air and reducing heat loss.
To learn more about what honeycomb shades can do for your home, contact All About Blinds and Shutters for a free estimate.