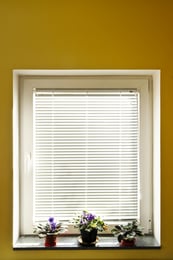 There's nothing quite like a lazy Sunday morning spent lounging on the sofa with a good book, a steaming cup of joe and a few rays of warm, Florida sunshine bathing the room. Without windows providing us a connection with the great outdoors, our homes would be dark, drab and, quite frankly, pretty depressing. After all, what good is a home in Jacksonville if you can't enjoy the sun?
Of course, while we all crave the look and feel of natural light in our living space for a variety of reasons, there is also such thing as too much light. In fact, there are multiple drawbacks to windows that, if not properly controlled, can make your home a little uncomfortable – and send your power bill skyrocketing. That's exactly why it's important to dress your home with customized window coverings. While they may seem simple, these important decor elements can make a huge impact on the look, feel and efficiency of your humble abode. Here are a few of the primary advantages to window treatments you may want to consider.

Privacy

Windows are your portal to the outside world, but your home is also your personal space - a comfortable retreat for you and your family. Everyone needs privacy in their living space, and this can easily be achieved with the right treatments. If you're seeking privacy within a room, but still want the benefit of natural light, you may want to consider honeycomb shades. While they block the sun's rays, they still allow a soft glow of light from your window. This is a great choice for rooms where you desire some light, but want to minimize distraction - such as a home office.

Style

Your home is your own personal space, and it's important that it reflects your unique personality. From wall decor to furniture pieces, every element in your home should be hand-picked to showcase your individual style - and treatments are no exception. In fact, bold-patterned curtains and quality wooden blinds can transform a dull room into your new favorite area to host your guests. Expertly hung bi-fold plantation shutters can convert a lifeless den into a bright and happy family room. Because there are so many colors, shapes and textures to choose from, it's easy to find window treatments that fit the personality and panache of your living space, while also improving the general aesthetics of your home.

Energy Efficiency

These days, everyone is seeking to reduce their energy usage. Whether you're interested in shrinking your carbon footprint for environmental reasons, looking to slash your power bill – or a combination of the two - treatments are key to increasing home energy efficiency. Window coverings are essential for keeping the heat out during the humid Florida summers, and keeping the heat in during those few (but mighty) weeks of winter. Often, homeowners assume that by investing in high quality widows, they're protected. However, even the best-rated windows can leak precious heat without the company of properly fitting, customized window treatments.

Comfort

UV rays are strong – especially for those of us living along the coast. When the sun's rays pass through glass, they're intensified. You may have noticed that on those particularly scorching dog days of summer, your window panes can become hot to the touch. While there's nothing quite like the beauty of natural light inside your home, too much light can become uncomfortable and rapidly increase your indoor temperature which, in turn, can cause your air conditioner to work overtime. Flexible window treatments, like motorized window shades, allow you the best of both worlds: sunlight when you want it, and UV protection when you don't. Of course, the same is also true for the colder months when you want to enjoy the sun during the day, but prefer to keep heat inside during those chilly nights.

Safety

Even the safest of neighborhoods can attract unsavory criminals looking for their next home to target. Often, thieves will case out homes by peering in windows while homeowners are away, and looking for valuable items worth taking. By utilizing these treatments, you can keep outsiders from eyeing the inside of your house in your absence, and increase the safety of your home. Even if the likelihood of a break-in in your area is low, window treatments offer added peace of mind.

Of course, the best advantage to treatments is the fact that there is a variety to choose from, so you can select a different style depending on the needs of each room in your home. Best of all, if you purchase customized treatments from All About Blinds and Shutters, you'll enjoy them for many years to come. So whether you're looking to keep your home safe and private, give your interior décor a stylish boost, save energy or simply give your living space a little added coziness, a new window treatment product can help you meet your home improvement goals. Give us a call at All About Blinds and Shutters today – or stop by and check out our showroom. We're happy to help you select the right customized treatments for your space.