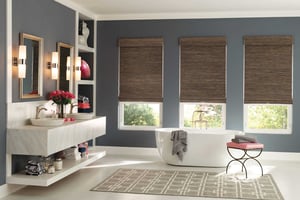 Updating your home can be a costly endeavor that can take weeks or even months to complete. If you go for a major home remodel, you might even be in for years of spending to get the home you've always desired. You don't have to spend a small fortune and turn your home upside down to make every space in the house feel special.
Window treatments are an ideal way to spruce up your décor without months of major construction or spending thousands on other upgrades. While window treatments can be costly if you choose only high-end materials, the beauty, style and function they'll bring to your home are well worth it. Cost-effective solutions are also widely available.
Use this guide to learn more about what window treatments can do for your home.
Update Your Design Scheme
The design of your room can get stale after a few years even if you loved it at first. Replacing all of your furniture or making changes to things like paint colors can be costly, and they may not actually improve your home's look. Window treatments allow for a quick update that brings more style and color to your space.
By changing your window treatments or adding new ones, you'll be able to create a new color scheme or include a pattern that's more up-to-date. New window treatments can also help you tie in new furniture, rugs or pieces of art that you love, but don't work with everything in your room.
Change the Feel of Your Room
Every room starts to feel old and worn to the people who spend time in it eventually. With window treatments, you can change the feel of your entire space without moving a single piece of furniture.
One option is to utilize a basic window treatment option like solar shades to make an older home feel more modern. Flat shades also perform a similar function. Roman shades are a more ornate option for homes that walk the line between traditional and contemporary.
Shutters and blinds are another option that can make a room feel clean and more open. These hard-surface window treatments are also easy to clean, making them ideal for busy spaces like family rooms, dens and home offices.
Improve Your Overall Lighting Setup
Lighting has a dramatic impact on how any room looks and feels. With window treatments, you can control the lighting scheme better, allowing natural light in, or blocking it out when it's overbearing.
Having control over the lighting outside allows you to put your home's best foot forward at all times. You'll also have a more functional space since you can block out light for sleep and keep glare on screens and surfaces at bay.
Better Insulation and Temperature Control
Window treatments can actually help you save money when the weather is hot or cold by providing insulation. Heavy curtains or solar shades are particularly good at this, but all window treatments help to block light that could heat your home. Window coverings also protect your furniture and floors from sunlight that could cause damage over time.
Make any room in your home a beautiful, updated space with new window treatments in your favorite style. You'll also cut down on heating and cooling bills and have more control over outside light.
If you have any questions concerning what window treatment would work best for your home, contact All About Blinds & Shutters.