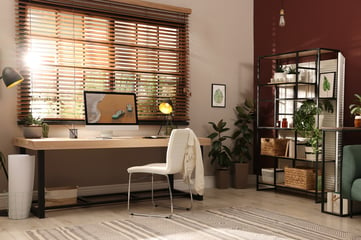 There are many benefits to a good set of blinds, from providing privacy and regulating a room's temperature to aesthetically tying a room together. However, blinds take on damage and wear out over time, and at some point, it might be wise to replace them. So whether you're thinking about redecorating or looking to update for more practical reasons, here's a guide on modernizing your home with new blinds.
Why Do I Need to Update My Blinds?
You may be asking why you need to change your blinds; after all, it's easier to just leave the old ones in place, even if they aren't in great shape. However, keeping your blinds up-to-date can save you money and improve the quality of your home. For one thing, a solid set of blinds can lower your power bill, acting as an extra layer of insulation between the inside and outside of your home. Well-maintained blinds will trap cool air in the summer and warm air in the winter, preventing your energy costs from shooting up. Similarly, effective blinds can also improve your health by making sleep easier.
Having functioning blinds in the bedroom can also help with your health and overall well-being by creating a space that is conducive to sleep. By properly blocking light from entering, you'll be able to rest easier and let your blinds work for you.
When Is It Time to Replace My Blinds?
There are many reasons you may decide it's time to update, from the mundane to personal safety.
To begin, you may decide it's just time to redecorate. When reorganizing or painting a room, installing matching blinds is a big part of maintaining your home's central aesthetic. There's no reason to have a sofa that clashes with the blinds, and changing blinds to reflect the color and design choices of your home is a perfectly good reason to update. Preparing to move also presents a good opportunity to replace your old blinds. A good set of blinds can emphasize the lighting of a room or make windows seem larger, in turn making your home more appealing to buyers.
However, there might be more immediate reasons to replace your blinds, factors like sanitation and safety. Pets and small children might play with drawstrings or other dangling components on blinds that are choking and strangulation hazards. Modern blinds, on the other hand, implement safety measures that keep your children and pets safe from harm.
Even if you clean them regularly, blinds naturally collect stains and allergens which can cause allergic reactions and other discomforts. If you can't keep your blinds clean anymore, it's probably time to replace them. The same is true as blinds take on damage over the years. Blinds are exposed to direct sunlight all the time, so discoloration, fading, and warping are natural. As blinds age, they become less effective at controlling temperature and blocking sunlight, and they grow more difficult to use with time. When you're having trouble making use of your blinds, it's probably time to replace them entirely.
What Kind of New Blinds Should I Install?
Updating your blinds is the fastest and most affordable way to renovate your home, and doing so can immediately change the entire mood of a room. However, it's important to go in with an idea of what you want. Start by determining what needs your room has and if there's a theme you need to match. Remember, design according to your needs; there are no better blinds for you than blinds that are both functional and stylish.
For areas that see a lot of use, consider implementing Roman blinds. Perfect for kitchens or bathrooms, Roman blinds offer privacy and a uniquely retro aesthetic; designed from soft fabrics like cotton or linen, these blinds are placed on slats that fold up over one another for efficient use of space. For more curbside appeal, shutters can be installed in windows facing the front of your home.
Solar screen shades are great for rooms with good outdoor viewing that still need some protection from the sun, blocking light without removing the view entirely. Finally, consider installing vertical blinds for a professional but extremely customizable aesthetic. Vertical blinds offer excellent privacy while requiring minimal maintenance. You can find a full list of all the varieties of blinds available from All About Blinds on our website.

With all of these options, it can be difficult to choose, but that's why All About Blinds is here for you. Providing service to the Jacksonville Florida area, we offer installation services for shutters and blinds of all kinds. Contact us today, and let us know what we can do for you!