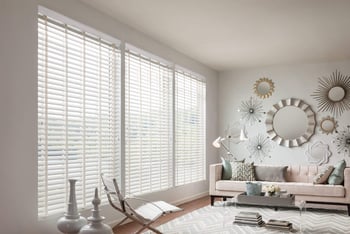 If you're addicted to interior design magazines and drool over those spectacular interiors you see on HGTV remodeling shows, why not give your home a makeover to update your style? With some helpful design tips and a little effort, you can create a stunning interior and make your home look just like the ones on TV.
LightEN Up Your Spaces
Homes that get minimal natural light will always feel a little dark and gloomy, so it's important to bring in more natural light if possible. Sunlight stimulates the brain, so dark, drab rooms can actually make you feel a bit lethargic and depressed. If your home only gets a few hours of sunlight each day, you need to keep spaces light and airy.
Freshen Paint
Lighter colored paint makes rooms feel larger and more open because they reflect light. If your living room is painted in a dark shade of cobalt blue, you can increase feelings of visual space by simply lightening the color. If your home has large rooms, it's easier to get away with dark paint on the walls, but smaller rooms should be kept lighter. If you just can't live without deeper hues around you, paint one accent wall and leave the rest in a nice light shade. For strong contrast, keep crown molding, casement, and baseboards in cream or white.
Update Fabrics
If you haven't changed your upholstery on sofas and chairs or bedding in your bedrooms in 10+ years, now is the time! In the design world, new textiles and fabrics come out every year and the changes are often drastic. While small checks and plaids may be trending one year, large, boldly-colored floral prints may be the rage the next year. Although you don't have to follow each design trend, it is good to be aware of them. Living with fabrics that went out of style five or ten years ago can quickly diminish visual appeal and make rooms feel outdated and uninviting.
Renew Window Treatments
Just like dark spaces and outdated fabrics, the wrong window treatments can quickly kill interior design appeal in a room. If you're still living with heavy draperies or old, aluminum mini blinds, it's time for a change. Current design trends are showcasing simplicity, clean lines, and natural elements. Shutters and simple shades are making a strong comeback in today's interiors. Plantation shutters with wide louvers and shades in organic materials create simple clean lines that allow numerous options for natural light and privacy. They keep spaces light and airy and provide easy maintenance with dusting or vacuuming. Shutters and shades come in a wide variety of styles, materials, and colors, so it's easy to find options that fit your unique style.
If your interior needs an update, contact All About Blinds and let our professionals help refresh your home's design. We can help you get one step closer to having a home that looks like it belongs on TV.