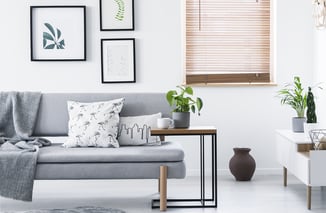 With spring right around the corner, now is the perfect time to redecorate. An interior design refresh will make you feel like your home coming out of hibernation. Knowing what is trending in interior design will help inform your design decisions and keep your home feeling fresh and updated.
Believe it or not, some elements of 1990s interior design style are finding their ways into current homes. Design in the 1990s seemed to be a response to the over-wrought 80s. A cleaner, more minimalist look replaced the neon colors and abundant patterns. Now, a similar theme is making its way into today's interior design magazines.
Here are some of the big trends to consider when redecorating:
Look for a clean design with an almost minimalist theme. Try to trim the clutter taking up space on coffee tables or other flat surfaces. Not only will you have a cleaner look, you will also do less cleaning since you won't have as much to dust. Minimalist doesn't mean nothing interesting. Actually, the opposite. A clean look allows one great piece of artwork, or interesting accent to gain all the attention.

When choosing colors, stick with earth tone palettes offset with a warm white. These colors seem to be replacing the grays we have seen recently. Using these neutral colors lets you add color and personality in decorative touches like throw pillows and picture frames. White kitchens emerged in the 90s. This trend may still have a place in your house, but with warmer whites paired with rich colors like blues and greens.

Bring the outside inside. Replace that musty carpet with a wood floor. Include stonework in small amounts and incorporate plants into your rooms for a soothing tone and air purification. Blond woods and knotty pines give a lighter feel to a room and offers a natural look.

Though you are trying for minimal look, don't be afraid to layer textures and fabrics. Just as you layer your clothing, layering your décor can help create a look and feel that is uniquely you. For example, one way to do this would be to try mixing metals such as chrome lamps with brass picture frames. Or try using contrasting accent pieces together, like a woolen throw and a fuzzy area rug.

Additionally, feel free to include both modern and traditional looks into your home. Do you love your grandfather's old rocking chair? Try pairing it with a sleek end table. Choosing a more minimalist design theme doesn't mean getting rid of meaningful items; it simply means working them in more consciously.

One of the new things that could be incorporated that wasn't around in the 90s is smart home technology. You may already have a programmable thermostat or a voice assisted stereo system, but why not add a high-tech home decorating option with automated window coverings? These blinds and shades raise and lower at the touch of a button and can sync with your home assistant devices, making them more convenient, safer for children and pets, as well as ideal for hard to reach areas.
Decorating your home should be fun. Don't get bogged down by the details; review the newest trends and decide which ones fit your unique home. And if you are feeling overwhelmed, talk with a professional.
The experts at All About Blinds & Shutters can help you find the right window coverings to fit your design plans. Contact us for an in-home consultation today!