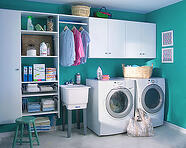 Those desiring to either take further advantage of limited amounts of space, or simply conceal certain items neatly within the home, may find custom closets in Jacksonville to be a wonderful solution to their organizational goals. Arranging small objects and even entire home areas into a tidily tucked away closet space will greatly reduce clutter and harmonize flow throughout the home. When you're searching to optimize your Jacksonville home storage and organization, consider custom closets and these great organizational tips for the additional space and well-kept appearance you desire.
Order in the Linen Closet
A custom linen closet is a great place to store items such as sheets, pillows, blankets, towels, and toiletries. Wall mounted shelves or racks can be lined with acid-free tissue paper to prevent discoloration of seldom used linens. Infrequently used items, such as extra blankets and pillows, can be stored at the top of the closet space. The most regularly used items, such as towels and bed sheets, may be stored in the middle for convenient access. As for the bottom of the closet, use storage bins to contain items such as toiletries and table linens. Save even more space in the closet by neatly rolling towels for storage or folding sheets and storing in coordinating pillow cases.
Office Closet Organization Overhaul
Wall mounted storage shelves provide a great space for organizing office supplies. Storage bins and cubes placed upon these shelves may be used to neatly separate materials. Closely spaced shelving may present additional storage capabilities in a confined or slender closet space. Standard storage systems and dressers can also be stacked neatly on top of one another to one side of the closet space for more hidden organization.
An office closet doesn't necessarily need to be solely for storage of office supplies. Office closets can be customized to literally create an office within a closet! A desk can either be placed into the closet or built-in and wall mounted to create the perfect hideaway office workspace. Filing cabinets provide an excellent base for the desktop to lay on, as well as additional storage for small supplies and files. Hang bulletin boards and a clock on the wall space above the desk for an open and professional appearance.
Harmonizing the Laundry Room
One of the most frequently used areas of the home is the laundry room. Often, space is limited and organization may be made difficult. Installing wall mounted shelves or cabinets above the washer and dryer creates an ideal area to store items such as laundry detergents and fabric softeners. Canvas storage cubes placed on racks or a miniature clothesline may be used to corral and neatly tuck away those pesky mismatched socks until their match can be found.
A folding surface is a must for any laundry room, even for those with the most limited of space. A built-in shelf constructed directly on top of the washer and dryer creates an ideal area on which to fold laundry. If excessive space is available, consider installing an island into the laundry room to serve as a folding area with areas to store baskets underneath.
Craft Closet Coordination
Project, art, and craft supplies can be organized with ease within their own closet space. Adjustable wall mounted shelving in a craft closet is ideal for when further arrangements may be necessary. Pegboards against the wall area provide a perfect space for hanging supplies such as scissors and paper punches. Wall mounted file holders can reduce to clutter of finding cardstock and papers by organizing them neatly by patterns and colors. For the craft closet, be sure to use clear storage bins for easy visibility without having to sift through all of the drawers to find your items.
When you are in need of additional space for organization of your Jacksonville home, consider custom closets to reduce your clutter and even to create rooms within other rooms!