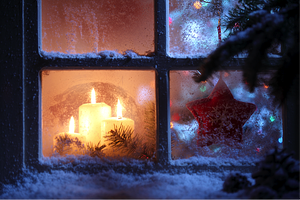 The holiday season is a time of family gatherings, gift giving and all around cheer. Your home should reflect that during the holiday months, especially if you're hosting family and friends. Get your home ready for the holidays by adding more coziness and warmth to your living areas. One of the easiest ways to do that is with carefully selected window treatments such as stained wood shutters.
There are certain elements that you should try to bring into your home during the holiday months to make it more welcoming and homely: texture, wood and comfort.
Texture
Look around your living room and think about where you could add texture. Maybe a couple of throw pillows in a thick fabric, such as fur or cashmere, would bring up the cozy factor. What about swapping out your rug with a thicker one?
Don't forget about the windows since they can do so much in setting the mood of a room. If you have white roller blinds or plastic blinds, you could instantly add a lot of texture to your windows by replacing them with honeycomb shades, woven wood shades or roman shades.
Plants are another texture to think about. Of course, a Christmas tree brings a lot of texture to a space and is a big plant in itself, even if you have a faux tree, but you don't have to stop there. Keep your plants near windows for sunlight and they will pair nicely with whatever window treatments you've chosen.
Try to incorporate several different textures in your living areas in different areas to make it as cozy as possible. All in all, there's one very important texture to think about when you're trying to bring in more warmth into your home - wood.
Wood
There's something about wood that reminds us of nature, which is a relaxing, nurturing feeling to many. You can bring in a lot of wood elements to your living areas by adding wood furniture, wood flooring, and/or stained wood shutters.
Inspect your living room and dining room for wood tones. Two different wood stains is fine, as long as an equal number of both stains are represented equally, but more than that and it might start to feel like a room of hand-me-downs. If you don't have any wood tones, consider adding some in the form of a wooden sideboard, wood dining chairs, or even a piece of art in a wood frame.
A great and fast way to add a warm wood tone to your living areas is with stained wood shutters. Windows take up a lot of space in a room so installing wood shutters will instantly bring a lot of warmth without having to invest in more wood furniture and decor. Stained wood shutters go very well with all kinds of decorating styles, from rustic to contemporary, and will also increase the value of your home. And the best part is that your new shutters will continue to keep your home cozy long after the last present has been opened!
You can choose the stain of your stained wood shutters, so make sure to choose a tint that matches the majority of your wood furniture and goes well with your decor.
Comfort
Even if you bring in a lot of texture and wood in your living areas, it will be all for nothing if your rooms are too cold. Keep your rooms warm with the help of window treatments and sealing all air leaks around your windows.
Inspect the area around your windows for air leaks and seal them with caulk. This will help your heated air stay indoors and keep your rooms warmer. Then, consider window treatments that can help your rooms feel warmer during the coldest of months.
Stained wood shutters add insulation to your living spaces, which keeps heat inside. More insulation is always good in a home, especially during cold weather, but they are also great for warmer weather since they can also keep cooled air inside. Also, it's much easier to adjust stained wood shutters than it is with other window treatments. These types of window treatments will work great in inconveniently placed or hard to reach areas.
Now you're ready to whip your home into shape so it's all dressed up and cozy for the holiday season. Remember, focus on bringing in more texture, adding wood tones, and making sure your rooms are warm to create the perfect holiday atmosphere. You can accomplish all these goals with the help of the All About Blinds & Shutters window treatment products. Contact us at All About Blinds & Shutters today and find out how we can help you get your home ready for the holidays!