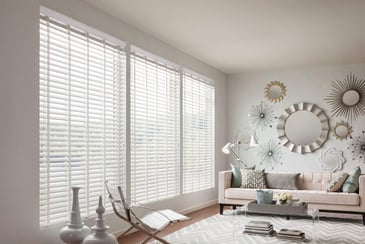 The hottest summer months are in full swing, and a cool indoor sanctuary can help to combat the summer-time heat blues, but can also cost loads to maintain. Don't sweat the money on top of the heat! Simply install the proper window coverings, and you are in business — the business of saving a buck!
At All About Blinds & Shutters, we have found that blinds are an excellent choice for maintaining a cool space in the summer and warm space in the winter, so your HVAC unit doesn't work overtime. Read on to discover the monetary benefits of blinds so that you aren't blinded (ba-dum ching!) on how you can save money with this timeless window covering!
Faux Wood Blinds
Faux wood blinds provide exceptional insulation to outside temperatures. The solid polymer material of our faux wood blinds reduces transmitted sunlight, enabling you to keep a cooler space, while also saving money on your air conditioning bill. Their durability and heat-resistant properties (i.e., up to 131 degrees!) also increase the longevity of your window coverings, which saves you money consistently for a longer period of time.
Our faux wood blinds also have a motorization functionality, which allows you to open and close the louvers with a push of the button. This makes it more convenient for you to close your windows, especially the hard-to-reach ones, during the hottest part of the day and open them during the coolest, which equates to more convenient energy savings.
Finally, faux wood blinds, themselves, are an inexpensive window covering option, costing 25%-30% less than their wood cousins. The combination of savings upfront with savings over time makes faux wood blinds an ideal choice for your overburdened bank account.
Wood Blinds
Unlike Fauxwood Blinds, for instance, our Wood Blinds don't require as many cords and strings as part of the construction. Aside from the nicer looking aesthetic, fewer cords and strings translate to fewer holes in the slat which helps to reduce transmitted light and heat. The traditional blind design requires a hole thru the center of the slat for the lift cord to pass thru. As an option, we now have a "no holes" option available for Wood Blinds that can further assist in reducing transmitted light by relocating the lift cord to the rear of the slat and virtually eliminate an exposed hole in the center of the slat. Any reduction in transmitted light affects heat transfer which in turn helps to reduce Air Conditioning costs.
Much like our faux wood blinds, our wood blinds also withstand high temperatures and direct exposure to sunlight, ensuring that your window covering investment sticks around to save you money all year round. And with a motorization capability to boot, you simply can't go wrong with wood blinds as a window covering solution to your fiscal burdens.
Aluminum Blinds
Our aluminum blinds are popular for their custom-fit capabilities. Because we take precise measurements of your windows and fit the aluminum blinds accordingly, there is only slight light transmission, as we're able to reduce the size of any gaps. By ensuring a snug fit, we are promising maximum cooling capabilities. This helps you save a dime over the long haul, and our sturdy aluminum blinds are built for long hauls!
Our aluminum blinds also have a reflective functionality, which helps reduce costs as well. Simply face the more reflective side of the aluminum blinds out, and you will find that sunlight bounces off and out. Send heat away from your home and money back to your wallet with a tug of a cord!
Vertical Blinds
Vertical blinds are ideal for large windows in your home, which tend to be the culprits of higher energy bills because of their vast size. Our vertical blinds have large and wider slats (3 ½ inches!), which block more light when closed. On a large window that would otherwise let in a large amount of heat and cold, that is a definite advantage.
Vertical blinds are also made out of PVC, which is a durable material that holds up to long periods of sunshine, making it a seasonally preferred option for window coverings.
Vertical blinds are also easy to install, and the polymer compound is less costly, the combination of which will save you money on labor and materials. It's a win-win situation for your windows and your savings account!
All About Blinds & Shutters: A Win-Win
At All About Blinds & Shutters, we are confident that our blinds will create win-win situations, time and time again. Whether you are looking for an excellent insulation property, a no-hole functionality, a motorization capacity, a custom fit, or a reflective capability, our blinds are just what the sunshine doctor ordered.
Don't let the summer months drag you down with heat and expense. Request your free estimate and start enjoying the budgetary benefits of blinds today. It just makes cents, people!