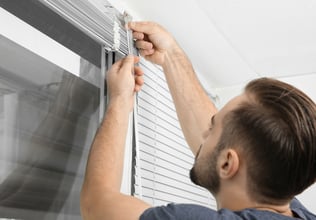 Whether you need to replace the existing blinds in a house you have enjoyed for some time, or you are picking out window treatments to complement the decor in a brand new home, you have an exciting array of choices to make! Different materials and designs can transform a room from a generic living area to a stylish room that really pops. Selecting your window coverings is part strategic investment, part creative effort, and it starts with a choice between pre-cut or custom blinds.
Both pre-cut styles and custom blinds have advantages to consider. You may wish to speak to an expert about the particularities of each, and set up an appointment for a professional window covering estimate or installation. This will ensure you remain happy with your investment for years to come.
One Size Might Fit All - Pre-Cut Blinds
Pre-cut blinds are low-cost imports, designed to offer both convenience and near-instant gratification when it comes to covering your windows. There is no need for precise measurements, or for the time required to cut and prepare custom blinds. These pre-cut blinds come already measured in a limited selection of sizes and styles, and can be installed quickly by those who know how.
In exchange for this convenience, pre-cut blinds do come with some drawbacks. You may find your windows do not precisely conform to the sizes offered, either because of a non-standard measurement or because of thicker window framing. The styles and materials available may not be the perfect fit for your design vision. Thus, you may find yourself needing to compromise on the look you hoped to achieve for your room. Warranties also vary between pre-cut and custom made blinds. Pre-cut blinds typically only have a 1-3 year in comparison to custom made blinds that have a 10 Year – Limited Lifetime Warranty.
A Little Bit of Luxury - Custom Blinds
You do not have to settle for whatever comes out of a box. Custom blinds allow you to achieve the look and light and privacy control you really want. You select the materials, the styles, and the size, and a professional installer ensures the perfect fit. When deciding on your custom blinds, you can even acquire samples to test how your favorite materials and colors work with the room they will enhance.
Custom blinds do require additional time and effort when compared to pre-cut blinds. Precise measurements are required to achieve the fit you hope for. The blinds must then be fabricated to the proper size so they can be placed. Despite the wait time, installation by experts is strongly recommended, so that the fit is exactly what you wanted and the operation is smooth and easy. Aside from a better fit and finish combined with a much better warranty, custom blinds are held to a higher standard with respect to what the product is made of. Unlike pre-cut blinds, there is no mystery material in custom blinds. Typically all custom blinds are made with low VOC materials and pose no threat of "Off Gassing" harmful contaminants inside your home.
Custom Blinds You Can Take Pride In
Here at All About Blinds & Shutters, we take pride in our work. We love to collaborate with our clients to create a look they love! Contact us today for more information about how we can help you achieve the window design of your dreams.