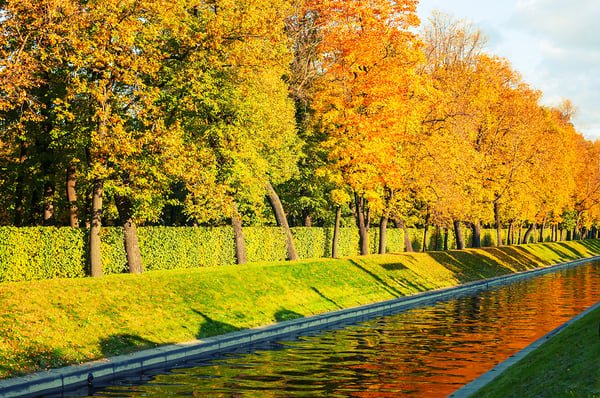 The change of seasons is a great time to refresh the décor in your home. Here are five ways you can add fall flair to your space.
#1. Let in More Natural Light
As the days get shorter and cooler as we move closer to winter, you will want to take advantage of allowing as much natural light into your home as possible. Natural lighting can enhance the interior of your home, improve your mood, and cut down on the need for artificial light within your home. Consider screen shades that can reduce the amount of UV rays and glare without compromising natural lighting.
#2. Create a Warm and Cozy Atmosphere
Fall brings much cooler temperatures in the morning and at night to the Jacksonville area. Introducing warmer and more natural tones into your home can make it appear warmer and more welcoming, which is ideal for the holiday season. Wood blinds and woven wood shades are two types of window treatments to consider.
#3. Make Your Home More Energy-Efficient with Style
Cooler weather means that you will be using your heat more during the morning and night. You can improve the energy-efficiency of your home and elevate its style with honeycomb shades. Because of their cellular design, these shades add insulation to your windows. This insulation keeps the warm air in your home and the cool air out. This could help keep your heating bills in check. An added bonus is that your shades can keep the heat out of your living space during the hotter months and help reduce your cooling costs, too.
#4. Add a Crisp New Look
If you want a crisp new look, consider plantation shutters. This type of window treatment goes with almost any design scheme, including contemporary, traditional, rustic, or coastal styles. You can control light as needed and use your shutters to insulate your windows from fall and winter's cooler air. The shutters look great on their own or you can pair them with a valance that you can change out for different looks throughout the year.
#5. Make Life Easier, Go Automated
Home automation now plays an important part in how many of us control various functions in our homes. Adding motorized shades eliminates the need for hazardous cords. They can also be programmed to open and close on a schedule throughout the day to give you the benefits of natural lighting and the sun's warmth, and the privacy you want at night.
See how the right window treatments can make all the difference with the décor of your home this fall. Schedule an appointment with one of our design specialists today to discuss your options in the comfort of your own home.