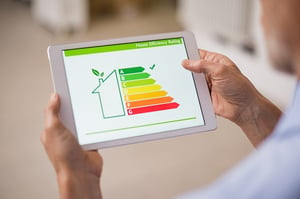 You might be surprised to hear that the U.S. Department of Energy has estimated that 25 to 40 percent of your heating and cooling costs can be attributed to the windows in your home. This is because the glass in your windows will lose heat in the winter and gain more heat during the Jacksonville's hot summer months. Depending on the time of the year, you will run your heater or air conditioner more, which uses more energy and increases your utility bills. So, what can you do to stop this from happening in your home?
The Science of Heat Energy
Regardless of the season, heat will always seek out cool areas. But when it does this, it travels along the path of least resistance. Your windows are the path of least resistance in your home, especially if they are older and not e-coated. The average window's R-Value is 1.16, while the average exterior wall R-Value of 13.1. So, the heat targets your windows more than the walls of your home whether it is coming from the sun or from within your home. This problem is easily fixed! All you need to do is upgrade your window treatments according to the U.S. DOE. But not just any type of window treatment will do, and you may also want to combine window treatments for the best results in controlling heat transfer.
Horizontal Louvered Shutters
Shutters are one of the best window covering options for reducing heat gain and loss at your windows. Dependent on the type of material used in their construction, the R-Value for Shutters can be as high as 5 or even greater. Additionally, the design of shutters focuses on reducing gaps and providing tight closure to help create a better seal around your windows. Regardless of whether you are combating Hot Summer conditions or Cold Winter weather, Shutters can make a huge difference in your homes energy efficiency.
Horizontal Slat-Type Blinds
Window blinds are more effective at reducing heat gain during the summer than winter heat loss because of the openings between their slats. During the summer, the slats can be adjusted to control solar heat gain, light and glare. When left closed and lowered on a hot and sunny day, window blinds with a reflective outer finish will reduce heat gain. Paired with other window coverings like curtains or drapes, the power of window blinds is increased for reducing both heat gain and heat loss by 33 percent and 10 percent respectively.
Cellular Shades
Cellular shades, also known as honeycomb shades are great for boosting your windows' R-Value up to 3.45 to 5. Each cell produces a pocket of inert air, which is not able to transfer heat very well at all. And because of this, the heat transfer rate of your window is slowed down by as much as 65 percent. You also get a great looking window treatment when you choose a cellular shade that also combines privacy with energy efficiency. It is important that you go with a custom window treatment when shopping for cellular shades for a perfect fit. Any gaps between the shade's edges and your window will diminish the shade's energy efficiency.
Solar Shades
If you want to block heat gain during hot days, but still be able to see out your windows, solar shades are a window treatment to consider. This type of window treatment reflects heat, blocks sunlight and reduces glare. Up to 90 to 99 percent of harmful ultraviolet rays can be blocked by a solar shade. The ability for natural light to pass through a solar shade is determined by the opacity of the fabric used in their construction.
The experts at All About Blinds & Shutters are always ready to help you with picking the right window treatment based on your needs. Contact us today to schedule your free estimate.